Whether securing your first management position or stepping into a larger role, personal branding is vital to any stage of your career. Here are some best practices to utilize, even if your place within the C-suite is already justified.
In addition to showcasing your executive experience and accomplishments, effective and targeted personal branding can demonstrate thought leadership and expertise within specific domain areas, as well as make a statement about your core values, character, and attitude. It can also help you move roles, whether from an operational "keep the lights on" CIO position to a more forward-looking innovative one (or vice versa), or even a CDO, COO or CEO role.
There's a financial component, too. The Thinkers360 2023 B2B Thought Leadership Outlook study, conducted in association with the British Computer Society (BCS), found that over 86% of thought leadership creators rate their content as adding over 25% to the brand premium they command in the marketplace, and over 48% stated it added over 75%.
So no matter where you are in your personal branding journey, here are 10 best practices to help you maximize your personal brand both in the near-term and throughout your career.
Determine your commitment to personal branding
This is the "why" of your personal brand. What do you want your legacy to be? What do you want to be known for? Think about your personal branding goals for this year, but also where you want to be in up to 10 years' time. It's fine to adjust your personal brand as well. For example, if you're known for your expertise in emerging technologies, it makes sense to keep your brand up to date with the latest trends (while being careful not to spread yourself too thin attempting to cover too many topics).
Pick your thought leadership persona
As a CxO, your primary persona is likely that of an executive, but think about other thought leadership personas that can help to amplify your primary persona. This might be as an author, influencer or speaker, for example, from your perspective as a CxO. If you're uncomfortable with keynote speaking, you can be just as effective as a panelist at industry events and conferences, or on the receiving end of media interviews. The most important thing is to choose a persona that's authentic to your personality and something you enjoy doing.
Become a video virtuoso. In our hybrid world of work, video is the most powerful platform for inspiring and activating your people. Become a video star in Zoom meetings and use asynchronous video to express your thought-leadership and to stay connected to the members of your team.

– William Arruda, Live & Virtual Keynote Speaker, Personal Branding & Digital Branding
Pick your area of expertise
Once you've chosen your thought leadership persona, you'll want to think about the area of expertise you'd like to anchor to your personal brand. This might be your CxO role itself, or even a specific technology or leadership discipline such as artificial intelligence, machine learning or change management. For example, Brian Solis, Head of Global Innovation, ServiceNow, gives advice from his perspective on the future of technology and business trends have made him a go to resource among executives, media and market experts.
Start small
If you're new to thought leadership and wish to add this aspect to your personal brand, you can often start small with a 'land and expand' approach. Start small with an article or blog, a media interview, a speaking slot at an industry event or conference, or even by entering some suitable industry awards. This all builds credibility, adds to your personal profile, portfolio, and media kit, and can help land your next "win" such as a book, a keynote, or a major award, such as the CIO 100 Awards. When selecting any of these outlets, choose wisely, since your personal brand will be shaped by the brands you associate with.
Amplify your personal brand
The Thinkers360 study found that specialist communities were the number-one destination for access to thought leadership content by readers, and a top-three destination for thought leaders to disseminate their content after social media and individual web sites. Depending on the business model, these specialist communities can often help you to build, amplify and monetize your personal brand as well.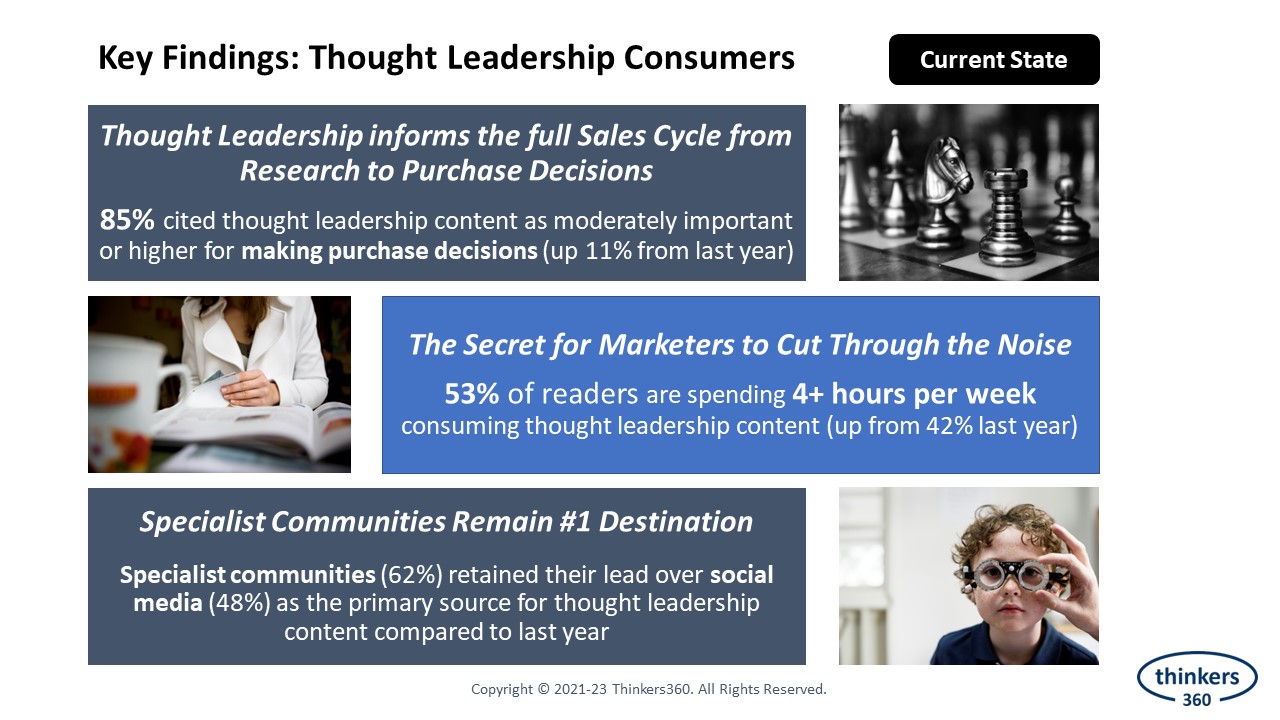 Use your career journey to tell your brand story
Your life experiences and career journey all tell a story about your personal brand. Think about the various career moves you've made over the years, the rationale for each move, and how this helps to shape the narrative about your personal brand. This may also help influence your next move too.
Round out your competency over time
Once you've become a world-class author, influencer, or speaker (no small feat in itself), the next step is to round out your skills so you're even more versatile. Gartner encourages this among their analysts and advisors, so they develop their skills not only in terms of one-on-one advising and writing research reports, but also in public speaking in front of both small private groups and large audiences at conferences. This helps to develop skills to best connect with your audience regardless of the context.
Your brand does not exist inside your head. Your brand exists in the world of others. It is created in how others experience us consistently, frequently and over time – and this is important, because this is how they create a framework for choosing whether to buy into our beliefs, our ideas, our products, our services – whether to buy into us. So when we align the conversation in our heads about who we are with how we show up for others with intention,, that's when we create a powerful, impactful and – most importantly – authentic personal brand.

Kym Hamer – Leadership, Visibility and Impact Coach, Personal Branding Expert, Podcast Host Building Brand YOU™.
Use your personal branding to promote your organization
As a CxO, you can be an excellent employee advocate for your own organization, and many CxOs do this to a greater or lesser extent based on personal preference. This may involve piloting solutions internally before they're released to the public, and helping with internal case studies. Many CIOs, not only pilot internally, but hit the road with other members of the C-suite to meet with key clients and share their experience.
Make your content insightful, engaging, and actionable
The Thinkers360 study found that thought leadership consumers cited insightful (94%), forward-looking (90%), engaging (89%), relevant (88%) and actionable (84%) as extremely important or very important attributes of thought leadership. In an era of increased competition for attention, thought leaders plan to cut through the noise by making their content highly actionable (73%), multichannel (59%), and shared via specialist communities (55%).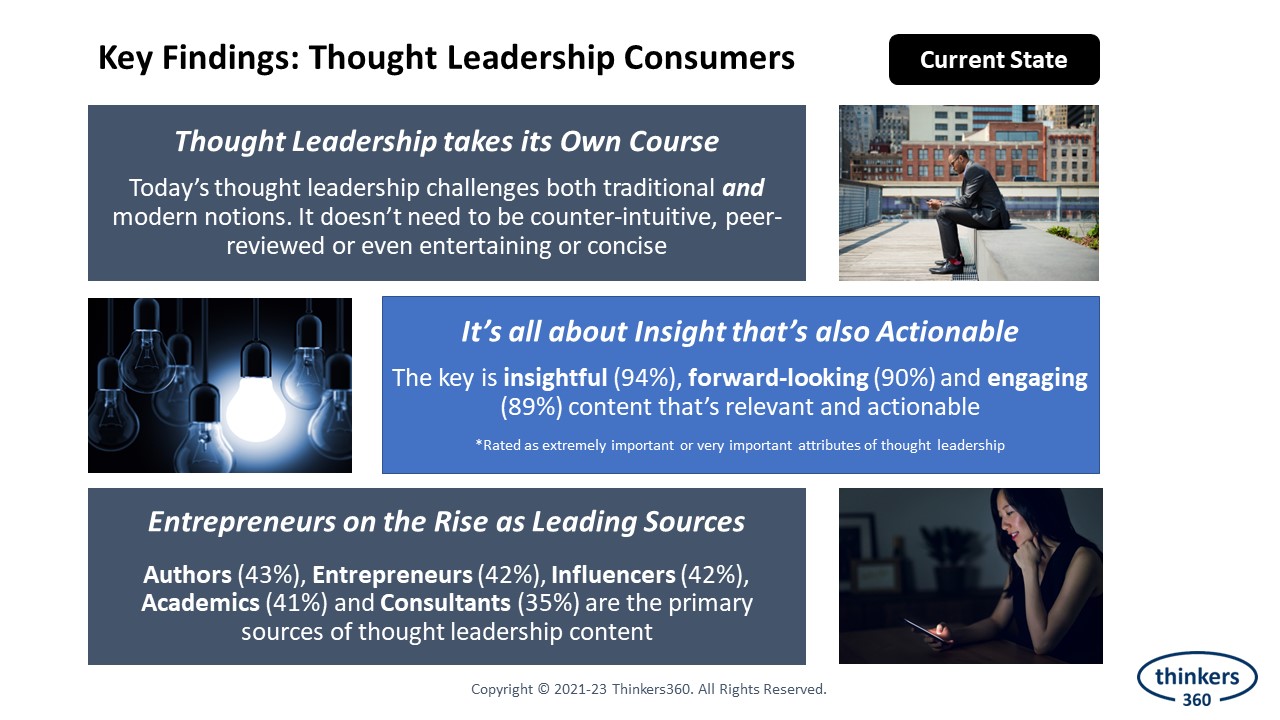 Treat your personal brand as your most valuable asset
According to Tom Koulopoulos, author of Revealing the Invisible, the great myth of the Internet is if you have volumes of great content, you don't need to worry about creating a thought leadership brand. This is no truer for a thought leader brand than it is for a corporate brand. In many ways you must be more vigilant about how you present yourself to the market, prospects, and clients. His advice is to craft, curate, and care for your brand as though it were your most important asset, because it is.
As a CxO, you've put a lot of energy into advancing your organization and its mission. Putting some energy into your personal branding is well worth the effort and it will benefit your organization too.
###
Ready to Build, Amplify and Monetize your Personal Brand?
Join us on Thinkers360 — Connecting Global Brands with the World's Foremost Thought Leaders and Authentic Influencers for Game-Changing Results!
Thinkers360 is the world's first, largest and premier B2B thought leader and influencer marketplace — including academics, advisors, analysts, authors, consultants, executives, influencers and speakers — with over 100M followers on social media combined. We are differentiated by our unique patent-pending algorithms that measure thought leadership and authentic influence looking far beyond social media alone.
Thought Leaders & Influencers: To join the world's largest opt-in B2B thought leader community and influencer marketplace, participate in our leaderboards, earn credentials, and curate, amplify and monetize your personal brand – Sign-up today for free!

Readers & Writers: To contribute your own content and to browse amazing content – including articles/blogs, books, podcasts and videos, from our opt-in B2B thought leader and influencer community – Join Thinkers360 today!

Brands & Agencies: Sign up to find and work with advisors, analysts, authors, influencers and speakers in your niche and to amplify your own executives, thought leaders, employee advocates and content on social media and among our opt-in community with over 100M followers on social media combined! – Explore membership today!