Announcing the Thinkers360 2023 B2B Influencer Marketing Outlook Survey
Thinkers360 is conducting our 3rd annual industry research into the current and future state of B2B influencer marketing working with our opt-in B2B thought leader and influencer community (100M+ followers combined).
If you are a consumer and/or producer of B2B influencer marketing content and services, we invite you to participate in our survey and receive a free copy of the survey results. You will also be eligible to enter our drawing for one of three free 1-Year Pro Plan Memberships to Thinkers360 to activate your employee advocates or amplify your personal brand.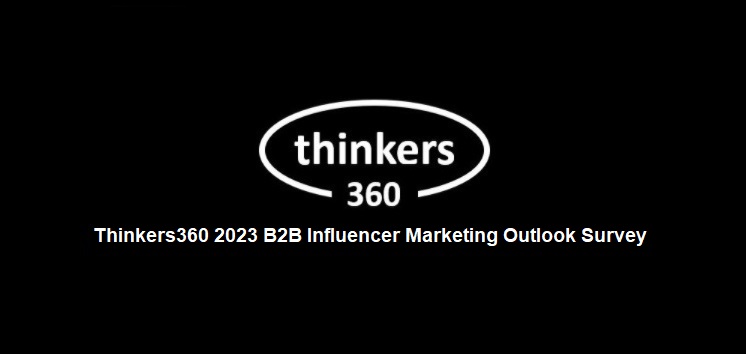 Upon survey completion, we will send a complimentary copy of the full survey results to all participants and more extensive results and analysis will be made available to Thinkers360 members at the Pro Plan level and above.
We encourage all survey participants to share this survey invitation with fellow brands and influencers to help us reach all those who have an interest in the current state of B2B influencer marketing and it's outlook for 2023!
###
Join us on Thinkers360 — The World's Top Experts. On Demand!
Thinkers360 is the world's first, largest and premier B2B thought leader community and influencer marketplace — including academics, advisors, analysts, authors, consultants, entrepreneurs, executives, influencers and speakers — with over 100M followers on social media combined. We are differentiated by our unique patent-pending algorithms that measure thought leadership and authentic influence looking far beyond social media alone.
Thought Leaders & Influencers: Connect and work with global brands as an advisor, author, consultant, influencer, speaker and more. Showcase your thought leadership profile and portfolio, build your media kit, amplify your content, increase your earnings, and participate in our global leaderboards and opportunity marketplace: Sign-Up (free) | Subscribe to our Newsletter
Enterprise (including brands & agencies): To find and work with experts, consultants and advisors in your niche or to activate and amplify your own corporate executives, thought leaders, employee advocates and content on social media and among our opt-in B2B thought leader and influencer community (100M+ followers): Request an Enterprise Consultation | Explainer Video | Subscribe to our Newsletter
Want to find and work with advisors, authors, consultants, influencers and speakers (including access to our unique thought leader profiles and portfolios, in-depth reports and analytics, warm personal introductions, and our zero-transaction fee speaker bureau)?
Contact us to discuss any of your freelancer needs at info@thinkers360.com
For custom influencer lists, advertising and sponsorship opportunities, please contact info@thinkers360.com.