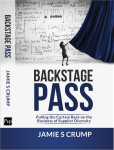 Backstage Pass: Pulling the Curtain Back on the Business of Supplier Diversity
Publish Your Purpose Press
June 15, 2020
Most agree that options, choices, and diversity are a good thing. No financial advisory ever suggested a portfolio of a single stock. We all love having 31 flavors to select from at the ice cream counter. So why is it so hard to see that a diverse supply chain is a necessary business strategy? The connection between diversity and profitability has been shown time and again. Research from McKinsey, Deloitte, and Harvard Business Review show that with diversity, companies make more money. Yet, many struggle to build the business case at their companies.

Jamie Crump spent 25+ years in corporate supply chain and supplier diversity. She is a thought leader in both areas and unveils best practices for developing and executing a supplier diversity business strategy in "Backstage Pass: Pulling the Curtain Back on the Business of Supplier Diversity."

Crump provides a backstage look at the five primary cast members: C-suite, supplier diversity professional, supply chain professional, diverse business owner, and end user. She shows what each brings to the table, their challenges, blind spots, and best practices. She then delves into how the cast members can best interact to execute a business strategy that will help recruit and retain talent, keep and win customers, and add money to the bottom line.

Her comprehensive six-step model offers a blueprint for success, from how to gain executive support to practical tips on creating new diverse business relationships. Crump shows that a supplier diversity business strategy is as basic as sound financials and a good marketing strategy.

Whether your organization is B2B, B2C, or a combination, if supplier diversity is a missing business strategy at your company, you are leaving money on the table. Find out how to get it back.

Tags: Business Strategy, Diversity and Inclusion, Supply Chain