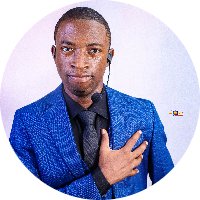 Dr. Javnyuy Joybert
Lead Trainer, Senior Consultant & CEO at COSDEF Group LTD (Social Innovation Enterprise)
Douala, Cameroon
Javnyuy Joybert (Mr Remarkable) is a multiple (31 times) international award winning business & productivity speaker, trainer, consultant & entrepreneur with 11 years+ of experience in 16 countries physically and 27 nations through virtual programs and refined skills who empowers his audience and clients (individuals & corporate structures) with deep insights, models, solutions & crafted tools they can apply in their businesses and lives to experience peak performance.

His areas of expertise cut across strategy & execution, process creation & implementation, employee essential skills, business startup & expansion, personal & team productivity, market entry & dominance, digital transformation, the future of work and organizations of the future.

Javnyuy is the CEO of COSDEF Group LTD, a service disruptive business with 16 employees with subsidiary operations in Financial Services, Corporate Training/Consulting, Skills Training & Recruitment Services, Technology and Investment Advisory Services.

Founder & Executive President of The Center for Entrepreneurship, Leadership & Business Management Development (CELBMD) Africa, which is an accredited international center of choice for professional skills training and development for CEOs, Mid-Executives, Entrepreneurs, Leaders & Young Professionals. Founded in 2012, CELBMD Africa has trained and certified 10800+ in 26 nations through virtual and physical instructor led sessions.

Javnyuy is equipped with world class skills by global institutions; he is a certified lean strategist by The Hudson Strategic Group Atlanta, Leading Change expert by The Institute of Continuing Education – The University of Cambridge, MBA in Human Resource Management from Rome Business School, Certified Essential Skills Trainer by The International Research & Exchanges Board USA, Certified KAIZEN Quality & Productivity Improvement Consultant, Certified Robotic Process Automation Business Analyst by TECHCANVASS Academy India, Enterprise Design Thinking (IBM) Practitioner and holds a Doctorate in Business Administration with Specialization in Entrepreneurship & Investments from Kesmonds International University (KIU) America.


Javnyuy is a Queen's Young Leader Award Winner Runner-Up, 2018 Mandela Washington Fellow at Clark Atlanta University USA, 2018 & 2020 Class of 100 Most Influential Young Africans, Tony Elumelu Entrepreneur 2019, OBAMA Foundation African Leader, YALS 2019 Young African Entrepreneur of the Year, The Masters' Mind Africa Awards Speaker of the Year 2020, Forbes Business Council Nominee March 2020, member of Conference Speakers International South Africa, Expert Member IBF International Consulting and Associate Member: International Association of Innovation Professionals.

Javnyuy is the author of 5 books like 35 Days of Redefining You for Success (2017), From Average to Unforgettable (2019) - Available on Amazon, The Future of Work in Africa (2020), Tomorrow's Iconic Leaders (2020) and The How - Mastering the Art of Execution (2020).

Javnyuy is a trailblazer who has spoken in 1700+ events in the last 11 years, consulted with 800+ medium sized and corporate institutions, author of 700+ published personal development & business articles, creator of 31 high-impact career and business transformation text & video courses with 9000+ users, columnist with magazines and national Newspapers like The Astute Ink and steady resource person to media houses like BBC, France24, CRTV, STV, My Media Prime, The Guardian Post etc.


Javnyuy has been a guest speaker/lecturer in Cameroon's top universities like University of Yaoundé 1, University of Bamenda, University of Buea, Catholic University of Buea, CITEC Higher Institute of Technology and Management, Kelden Bilingual Higher Institute of Professional Studies and African Institute for Mathematical Sciences (AIMS) Cameroon. Javnyuy is an Advisory Board Member with Blockchain Association Cameroon & a few other startups across Africa.

Javnyuy's mission in life is "To turn slow growth institutions (businesses) into high growth institutions, and average individuals into productive peak performers"

Available For: Advising, Authoring, Consulting, Influencing, Speaking
Travels From: Douala, Cameroon
Speaking Topics: Africa Marketplace Entry & Dominance, Strategy & Execution, Process Creation & Implementation, Employee Essential Skills, Business Startup & Expansion