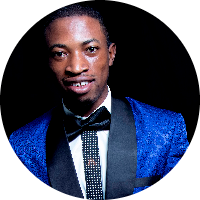 Javnyuy Joybert
Lead Trainer, Consultant & CEO at COSDEF Group Social Innovation Enterprise
Douala, Cameroon
Javnyuy Joybert is a multiple award winning Speaker, Enterprise Development and Corporate Trainer/Consultant and Entrepreneur. Co-Founder/CEO of COSDEF Group Social Innovation Enterprise which for the past 8years+ has designed and executed social, enterprise development and corporate solutions to address community problems, build sustainable businesses and effective corporate structures & AFA Designs Software Development Firm serving for profit and nonprofit enterprises across Africa with innovative technology solutions.

As a certified trainer & speaker, Javnyuy lead on average 200+ training sessions across Africa in the areas of personal productivity, enterprise development, corporate effectiveness, career growth, skills development and others. Javnyuy is the author of 2 Cameroon's sought after personal productivity books: 35 Days of Re-Defining You for Success and From Average to Unforgettable.

Javnyuy reaches out to 27,000+ people daily with personal, career & business productivity hacks aimed at getting users from average to peak performers. Javnyuy is a Queen's Young Leader Award Winner, 2018 Mandela Washington Fellow at Clark Atlanta University, Tony Elumelu Entrepreneur 2019, OBAMA Foundation African Leader, YALS 2019 Young African Entrepreneur of the Year and Forbes Business Council Nominee March 2020

Javnyuy has a well balanced education, he is a certified lean strategist by The Hudson Strategic Group and The Quality Group, Atlanta, certified KAIZEN quality & productivity improvement consultant, Leading Change expert by The Institute of Continuing Education – The University of Cambridge, RPA Business Analyst, Enterprise Design Thinking Practitioner (IBM) & MBA in Human Resource Management from Rome Business School.
Available For: Authoring, Consulting, Influencing, Speaking
Travels From: Douala, Cameroon
Speaking Topics: Enterprise Development, Process Innovation, Essential Skills Development