One thing thought leaders and experts such as academics, analysts, authors, consultants, employee advocates, entrepreneurs, executives, influencers and speakers all have in common is they typically have a ton of content – articles, blogs, books, keynotes, media interviews, panels, podcasts, social channels, speaking, videos, webinars, whitepapers and more!
One of the challenges with all this content is it's often distributed all over the web on various sites such as Amazon, corporate sites, Google Scholar, iTunes, LinkedIn, Medium, personal sites, publisher sites, social channels, speaker bureaus, TED, YouTube, Vimeo and many other destinations.
Sites such as LinkedIn are great at showcasing your resume and work experience, but do little to showcase your complete portfolio of thought leadership content. What's more, the sites just mentioned typically showcase just one aspect of the many hats you may wear as a thought leader. By their very nature, speaker bureaus highlight your speaking, Amazon highlights your books and so on.
According to Tom Koulopoulos, author of "Revealing the Invisible" and Thinkers360 member, "The great myth of the Internet is that if you have volumes of great content you don't need to worry about creating a thought leadership brand. This is no truer for a thought leader brand than it is for a corporate brand. In many ways you must be that much more vigilant about how you present yourself to the market, prospects, and clients. My advice: craft, curate, and care for your brand as though it were your most important asset; because it is!"
To craft, curate and care for your brand, an interactive digital media kit containing your entire thought leadership content portfolio can be a great way to pull everything together so you have an easily accessible and shareable resume of your collected works.
In conjunction with your personal and/or company web site, this media kit can be a great way to share and demonstrate your expertise when engaging with audience and brands interested in your perspectives and services.
Creating a standout media kit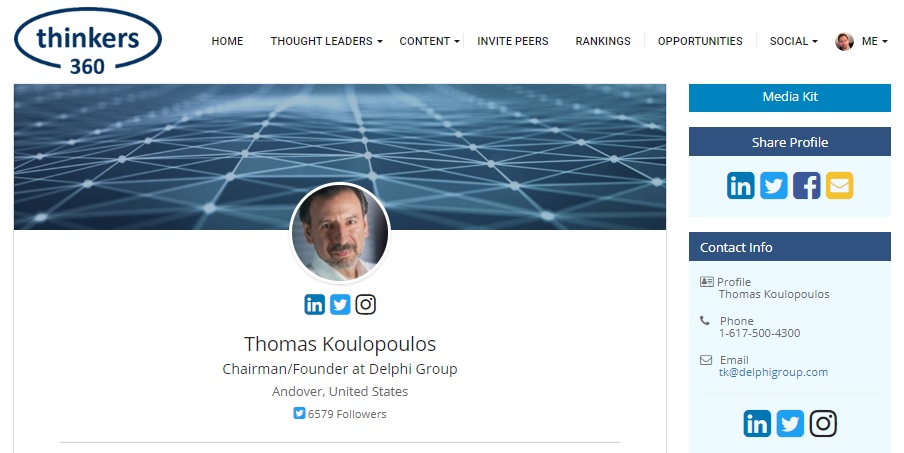 While the benefits of strong thought leadership content and portfolios are clear, the challenge is that compiling this information manually can be time-consuming and tedious. What's needed is a way to create a standout media kit in minutes, rather than hours or days.
At Thinkers360, we aim to help you curate and showcase your entire thought leadership portfolio across all your various channels. We utilize automated techniques to ingest your content as well a personalized data entry service via our various freemium membership plans to curate your content across any of your designated web sites such as Amazon, LinkedIn, Medium, TED, YouTube, Vimeo and more.
Our "Add Publications" feature allows you to enter any of your published content including articles, awards, blogs, books, keynotes, media interviews, panels, podcasts, social channels, speaking, videos, webinars, whitepapers and more. If you have a regular column, blog, podcast or even video with an RSS feed, you can use "Import Publications" to import all your content at once.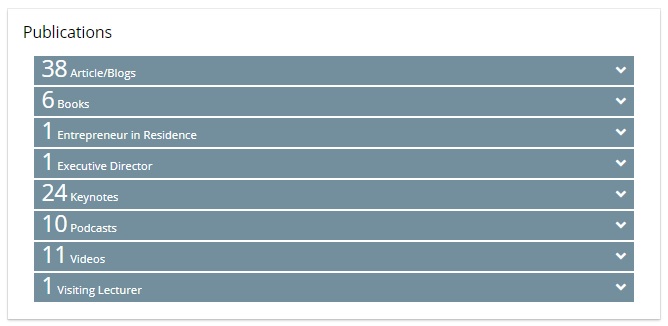 One of the many benefits of building your media kit in this way, is that you can now easily share your content on social media without having to remember the locations of your content or having to navigate across multiple web sites to share each piece individually.
What's more, Thinkers360 provides support for tools such as Buffer so you can schedule and share any of your curated personal content across multiple social channels all at once and from a single location. This makes posting your content on social media a matter of seconds as opposed to minutes or hours.
You can tag your content with up to three keywords which count towards our global thought leadership leaderboard standings (see the Thinkers360 Blog) as well as serving as pre-built hashtags for your social media posts. This means sharing on social media is just a click away!
Creating an online sharable profile
As a Thinkers360 member, in addition to your private profile, you can share your profile and portfolio publicly. You can create a personalized link for this profile and control what information is displayed in both public and private profiles. In addition, you can save your portfolio as a PDF to make it easily shareable with customers and prospects.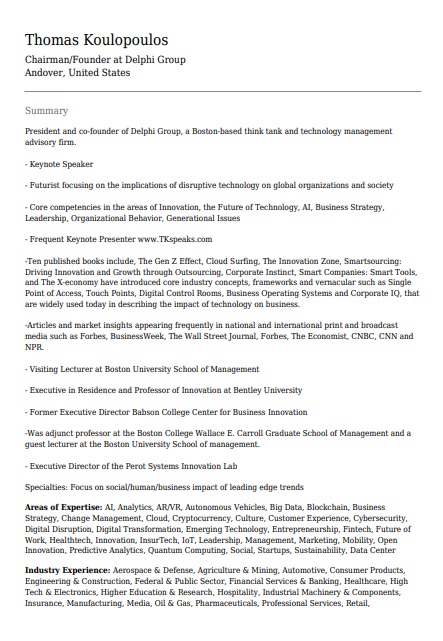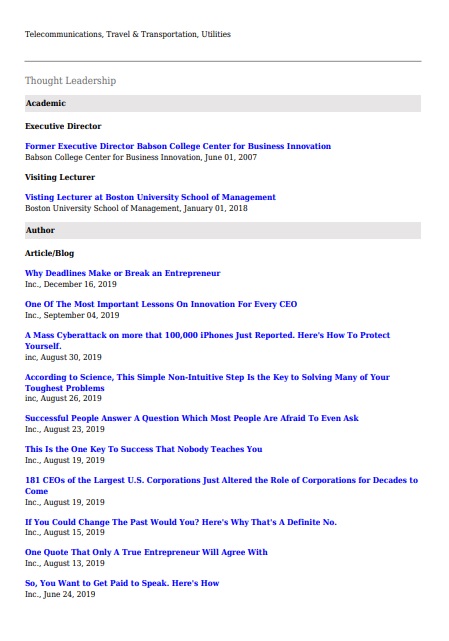 In summary, these profiles can be a valuable way to summarize and showcase your complete thought leadership content across all the channels you utilize, giving customers and prospects a way to easily explore your "collected works" and your personal or corporate brand.
###
Join us on Thinkers360!
Thinkers360 is an opt-in network of the world's foremost thought leaders — including academics, analysts, authors, consultants, influencers and speakers — with over 15M followers on social media combined. We are differentiated by our unique patent-pending algorithms that measure thought leadership and authentic influence looking far beyond social media alone.
Individuals: Connect and work with global brands as an author, influencer, speaker and more. Showcase your thought leadership profile and portfolio, build your media kit, and participate in our global leaderboards and opportunity marketplace: Sign-Up (free) | Newsletter
Enterprise (including brands & agencies): For brand, influencer, content marketing and speaker bureau services – working with our network of premier opt-in influencers with 15M+ followers on social media – or to showcase your own corporate executives, thought leaders and content: Request an Enterprise Consultation | Explainer Video
Want to discover and work with authors, influencers and speakers (including access to our unique thought leader reports and analytics, personal introductions, and our zero-transaction fee speaker bureau)? Contact us to discuss any of your thought leadership and B2B influencer marketing needs at info@www.thinkers360.com
For custom influencer lists, advertising and leaderboard sponsorship opportunities, please contact info@www.thinkers360.com.