Building a More Diverse Workforce in the Partner Channel
CollabTalk LLC
June 03, 2019
A research-based practice development playbook and resource set to help partners recruit and retain a more diverse workforce. Authored by Barb Levisay, with research conducted by CollabTalk LLC and the BYU Marriott School of Management commissioned by Hewlett-Packard Enterprise, Tech Data, and Microsoft.
Tags: Diversity and Inclusion, Future of Work, Leadership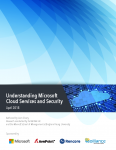 Understanding Microsoft Cloud Services and Security
CollabTalk LLC
February 04, 2019
Based on research conducted by CollabTalk and the BYU Marriott School of Management, and sponsored by Microsoft, Rencore, and other leading partners, this report on on the state of Microsoft cloud services and security was written by Liam Cleary, Microsoft MVP, security expert, and Product Owner – Security at Rencore. In this report, you will learn:

What are the latest cloud security trends, challenges and threats?
How is Digital Transformation affecting the ongoing security discussion?
Are there gaps between perceived and real security cloud concerns?
How will customizations affect the security of my cloud environment?
How will the core Microsoft cloud security features help me in optimizing security?
What steps I should take to develop an action plan?
Tags: Cybersecurity, Digital Transformation, Risk Management
Understanding the State of the Hybrid SharePoint Ecosystem
CollabTalk LLC
April 10, 2017
Independent research conducted on behalf of the SharePoint community, providing data and insights to help customers and partners plan for the future of their SharePoint environments:

What is the size of hybrid SharePoint usage in terms of licenses (seats), users, and revenues?
What is the composition of hybrid SharePoint usage in terms of company size, locations, versions, and features used?
What are the potential opportunities?
What are the risks?
What are the benefits of hybrid SharePoint strategies?
How are people using hybrid SharePoint environments?
What different strategies will companies use around hybrid moving forward?
What are the growth trends of Microsoft SharePoint in terms of environment type?
Tags: Cloud, Design Thinking, Digital Transformation
Advisory Board / Investor
revealit.io
December 04, 2017
revealit.io is an interactive video technology company, using our patent-pending platform and leveraging the latest artificial intelligence, blockchain, and augmented reality technologies to revolutionize the video experience.
Tags: AI, AR/VR, Emerging Technology
Improve It!: A collection of essays on using analytics to accomplish more with SharePoint
Webtrends
May 01, 2015
Improve It! is a collection of essays from SharePoint community thought leaders about how to get the most out of SharePoint. It shares the latest thoughts on SharePoint's continual evolution and how organizations can improve the value and impact of their intranet. With multiple perspectives from Microsoft insiders, leading SharePoint consulting firms, and industry luminaries, find out how using analytics to measure SharePoint for social, collaborative, and engagement enables improved ROI.
Tags: Analytics, Design Thinking, Digital Transformation
Prove It: Using Analytics to Drive SharePoint Adoption and ROI
Webtrends
March 27, 2014
User adoption has been one of my war cries ever since I started using SharePoint in 2006 to coordinate AIDS vaccine research data for Dr. Susan Zolla-Pazner and the CAVD (Collaboration for AIDS Vaccine Discovery). After building a system that would manage the research data, I sat with Susie to explain how the system worked. I didn't even get a minute into the explanation, when she stopped me cold. "I don't care how it works. Just tell me what I have to do." That statement was a revelation that has guided my SharePoint career for the past eight years.
Tags: Design Thinking, Digital Transformation, Business Strategy
The Ultimate SharePoint Performance Guide!: Configuring SharePoint, SQL and Office 365 for maximum performance
Amazon.com Services LLC
February 07, 2018
This is an ultimate guidance on performance for SharePoint Server 2013, 2016 and SharePoint Online inspired both by Microsoft's best practices and real life experiences from countless deployments on the field.This book was Tech Reviewed by Microsoft MVP & RD Jussi Roine and includes an awesome foreword by SharePoint MVP Christian Buckley
Tags: Change Management, Digital Transformation, Emerging Technology
The Rise of the Digital Workplace Champion -- #ARMA2019 Keynote
ARMA
October 24, 2019
Keynote given at the ARMA InfoCon event (#ARMA2019) in Nashville, TN (October 2019). In this presentation, I share four ingredients required for lasting organizational change, and make the case for identifying change agents or "champions" within the digital workplace to implement real change.
Tags: Business Strategy, Change Management, Digital Transformation
Method for business to business collaborative viral adoption
United States of America
August 31, 2010
The invention provides a method for business to business communication among trading partners that use differing business rules and processes. A trading partner server provides a center for communication between the trading partners enforcing the business rules and enabling the trading partners to communicate effectively. Legally binding and non-legally binding agreements necessary to support a business discourse are handled electronically through the trading partner server.
Tags: Cloud, Design Thinking, Supply Chain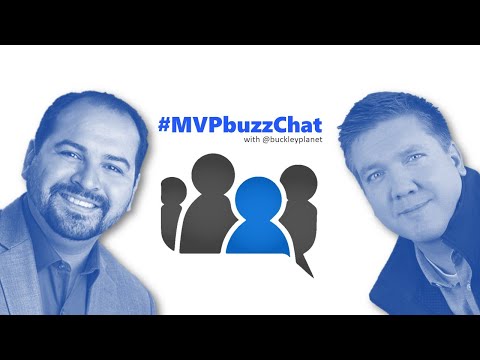 #MVPbuzzChat with Johnny Lopez
Buckley Planet
January 15, 2021
For Episode 110 of the #MVPbuzzChat interview series, I spoke with Office Apps & Services MVP Johnny Lopez (@rockett_15), a Microsoft 365 expert and Managing Consultant for Catapult Systems who is based in Houston, Texas. Johnny spent over 10 years in the US Navy, which is where he cut his teeth on SharePoint by deploying SPS2003, and is the President for the Houston Office 365 Community and the co-leader in the Houston Power Platform User Group.

In this episode, Johnny and I discuss his passion for technology, community, and family. We talk about his background and path into the MVP program, specifically talking about the importance of mentoring — both in how it helped him along his journey, but also on its importance as he looks for ways to give back to the community.


Tags: Digital Transformation, Management