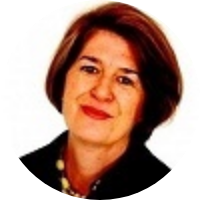 Andrena Logue
Founder and Principal at Experiential HealthTech
London, United Kingdom
I work with two types of tech vendor: those already active within some part of the Healthcare sector, seeking either to expand, or reassess their model; enterprise leaders that believe they can verticalize their portfolio for Healthcare.

I draw on my 30 years' experience as a TMT competitive & market intelligence analyst and strategic advisor to senior management and executive teams at global, regional, and local level.

I've dedicated the last 10 years to supporting vendors with their growth planning, portfolio, and channel management across the Healthcare, Public Sector, and telco Healthcare-vertical landscapes.

I'm a strong advocate of convergence and ecosystems, and I therefore guide my clients to horizon scan from a breadth and depth perspective – taking in the intersections between clinical care, reimbursement, Pharma/Life Sciences, retail, and telecoms.

The days of product push and point solutions are over. Health tech buyers don't follow 'trends' - they buy based on prioritised need. More astute, they're willing to bypass incumbents in favour of vendors that can show true empathy with real-world challenges, and can bridge multi-disciplinary gaps.

We work best when I can bring your teams together, to explore, validate, and commit to making the change needed to advance. I bring pragmatism, context, and a pledge to be open with you about your addressable market potential. That way, your teams can better support each other to align to market demand, and chart the course ahead with confidence.

Together, my clients have successfully exploited a dominant position in one region to enter another geography, while fine-tuning their offer to create a differentiated value proposition. Others have worked with me to further their competitive edge by launching into an adjacent sector, augmenting their partner base, or really going deeper on customer segmentation.

If you feel we could work together, I invite you to contact me for a free exploratory conversation.
Available For: Advising, Authoring, Consulting, Influencing, Speaking
Travels From: London, UK
Speaking Topics: Digital health | Healthcare | Health Tech | Ecosystems | Innovating to Future-proof | Strategy