Paperback: Lead or Lag: Linking Strategic Project Management & Thought Leadership 1st Edition
LeadHerShip Group
November 04, 2016
A thorough and comprehensive look at the link between project management and business strategy. Covering all of the essential elements that companies and their project managers need to focus on for success.
Tags: Digital Transformation, Leadership, Business Strategy
Founder of Your Brand Of Beauty Magazine
Your Brand Of Beauty Magazine
March 13, 2019
Launched March 7, 2019, Your Brand Of Beauty Magazine is a beauty and wellness website for women and men from every walk of life. There's a sea of products out there for you to try, but money isn't endless. Finding what works to suit your needs should be so much easier. At Your Brand Of Beauty, we talk about everything beauty and wellness, what being beautiful and healthy means for you, and the things you can do to be your best self.


Tags: Customer Experience, Social, Culture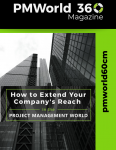 Founder of PMWorld 360 Magazine
PMWorld 360 Magazine
March 27, 2018
Voted In The Top 2 Project Management Magazines To Follow In 2019, PMWorld 360 Magazine is a digital publication focused solely on project management and directly aligned topics. Get a 360-degree view of project planning and execution through the eyes of Project Management Institute (PMI ) certified & experienced PMPs. We offer project managers, busy professionals, executives, key stakeholders, educators, and students with valuable tips, best practices, resources, exam and course information, podcasts, and industry news. Content marketing options are also available to businesses.
Tags: Agile, Risk Management, Business Strategy, Project Management
Lead-Her-Ship Group
Lead-Her-Ship Group
January 09, 2017
We are a content creation and editorial service company on a mission to help organizations lead through high-value written content that strengthens brands. We work with Fortune 500 companies, top-tier B2B and B2C digital publications, small and mid-sized businesses, and content marketing firms.
Tags: Customer Experience, Marketing, Business Strategy
130 Top Project Management Influencers Of 2019
The Digital Project Manager
June 12, 2019
Included in the Digital Project Manager's list of the brightest minds and influential thinkers who are shaping the project management industry today.
Tags: Future of Work, Agile, Project Management
PMWorld 360 Magazine Voted Top Digital Project Management Magazine To Follow in 2019
FeedSpot
March 05, 2019
PMWorld 360 Magazine has been Voted The Top Digital Project Management Magazine To Follow in 2019. PMWorld 360 Magazine is a new digital project management and leadership magazine that provides business key decision-makers with a 360-degree view of the management world from the perspective of trusted, certified project management professionals. We share best practices, opinions and advice, project management and related product reviews, new industry developments, resources and more to help busy decision-makers and business professionals make the best possible decisions.
Tags: IoT, Leadership, Social
9 Digital Magazines for Project Managers of Tomorrow
PMColumn
January 15, 2019
Project managers of tomorrow need to keep themselves tuned to best practices, especially when the new tools, skills, and trends start dominating the project management landscape. To stay on top of innovation and cultivate this knowledge, we recommend experts passionate about project management to consider reading a bundle of digital or print magazines.
Tags: Future of Work, IoT, Leadership