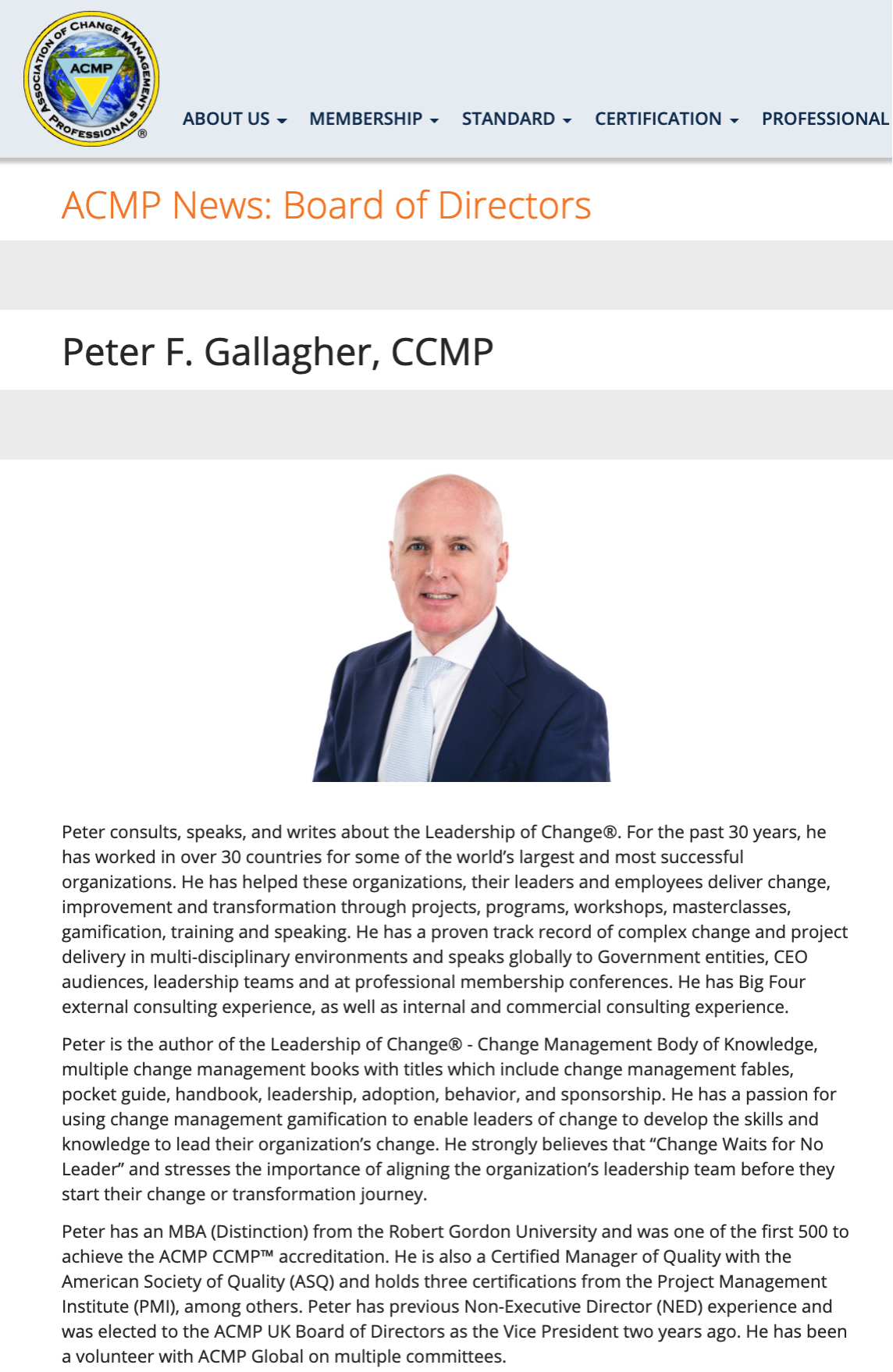 "I am very proud to have been voted onto the ACMP Global Board of Directors by my fellow Association of Change Management Professionals® (ACMP®) - Sep 2021"
Thank you to all of the ACMP Global members who voted. I am really excited about this opportunity and to work with the BoD to 'lead the way change works'.
Congratulations to my fellow elected board members: Greg Voeller, Rich Batchelor, Dr. Kavita Sarwal, PhD, CHE, CCMP; and Felicia Vacarelu.
A big thank you to Steve Green and the ACMP UK BoD for all their support. It was great working with you all the last two years.
Change Management has always fascinated and excited me, it is my passion and when you find your passion your work no longer feels like work.
About ACMP - Vision & Mission
ACMP's vision is to lead the way change works. Our vision statement reflects an aspiration to innovate and lead change practices, in addition to managing change. Our focus is on using our professional expertise to achieve business and organizational results.
ACMP's mission is to serve as an independent and trusted source of professional excellence, advocate for the discipline and create a thriving change community. Our mission statement reflects our commitment to our members that ACMP will advocate globally for the recognition of the existence and value of our profession.
Peter consults, speaks, and writes on the Leadership of Change®. For further reading please visit our websites: https://www.a2b.consulting https://www.peterfgallagher.com Amazon.com Peter-F-Gallagher
Blog Source: https://www.peterfgallagher.com/single-post/acmp-news-board-of-directors-peter-f-gallagher
Author Publications: https://www.peterfgallagher.com/publications
#LeadershipOfChange #ChangeManagementLeadership #ChangeManagement
#a2BConsulting C-Suite Change Consulting, Change Leadership Alignment and Gamification
Keywords: Leadership, Change Management, Business Strategy