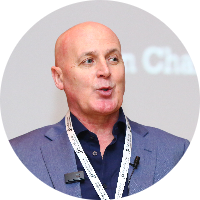 Peter F Gallagher
Ranked#1 Global Change Management Thought Leader Thinkers360, International Corporate Speaker, Author & Leadership Alignment Coach at Leadership of Change
London, United Kingdom
Ranked#1 Global Change Management Thought Leader Thinkers360, International Corporate Speaker, Author & Leadership Coach

Ranked #1 Global Thought Leaders and Influencers on Change Management (May 2020) by Thinkers360.

Business Book Ranking: Change Management Pocket Guide. Ranked within the top 50 Business and Technology Books (Jan 2020) from Thinkers360 Thought Leaders.

Experience:
He has a proven track record of complex change and project delivery in multi-disciplinary environments for the world's largest and most successful organizations. He has Big Four external consulting experience, as well as internal and commercial consulting experience, working in over twenty-five countries over a thirty-year career. Companies he has worked for include: EY, Shell, NCR and Bombardier Aerospace and has held senior roles in industry and has boardroom experience as a NED. His clients include organisations such as ADNOC, Boeing, GE, Rolls Royce and Saudi Aramco.

Speaking:
Peter speaks on the Leadership of Change®, change management, change leadership alignment and the benefits of change management gamification. As a speaker, Peter has presented strategic transformations leading practice to Government entities, CEO audiences globally, leadership teams and professional membership conferences. For over 30 years, Peter has been helping organisations, leaders and employees change, improve and transform through keynotes, master classes, change management gamification workshops, projects and programmes.

Leadership of Change Keynotes:
~ How to Align Leadership Teams to Lead Successful Change
~ 10 Change Management Lessons Learned that Leaders SHOULD Know
~ How Change Management Gamification sets Leaders up for Success

The change question set Peter asks all leaders is:

"Do you have a change vision? Are you aligned on your strategic objectives? Are you a high performing team? Does your team have change leadership skills to lead the change or improvement that your organisation is facing?"
He then works with the leadership team to develop a solution.

Change Management Gamification:
Leadership of Change® is a change management simulation about strategy execution in large organisations. The game focuses on how to implement organisational change to achieve a return on investment and gain employee adoption. The game takes the participants through the ten key steps to achieve successful change implementation. 

Publications:
~ Leadership of Change® Volume 1 - Change Management Fables
~ Leadership of Change® Volume 2 - Change Management Pocket Guide
~ Leadership of Change® Volume 3 - Change Management Handbook
~ Leadership of Change® Volume A - Change Management Gamification - CMExec

Professional Qualifications:
Peter has an MBA (Distinction) from the Robert Gordon University. He is an American Society of Quality (ASQ) Certified Manager of Quality, a Certified Change Management Professional™ with the Association of Change Management Professionals (ACMP) and holds three certifications from the Project Management Institute (PMI). He is also a Lean Six Sigma Master Black Belt.

Board Member: Vice President of the Association of Change Management Professionals (ACMP) UK

Speaker Association Member: Virtual Speaker Association (VSA) International

Contact Details
# peter.gallagher@a2B.consulting
# +44 754147 2955
# Web: www.a2B.consulting
# Web: www.peterfgallagher.com

Please feel free to contact me directly with your queries?
Available For: Authoring, Consulting, Influencing, Speaking
Travels From: London, UK
Speaking Topics: Organisational Change Management and Change Leadership Alignment