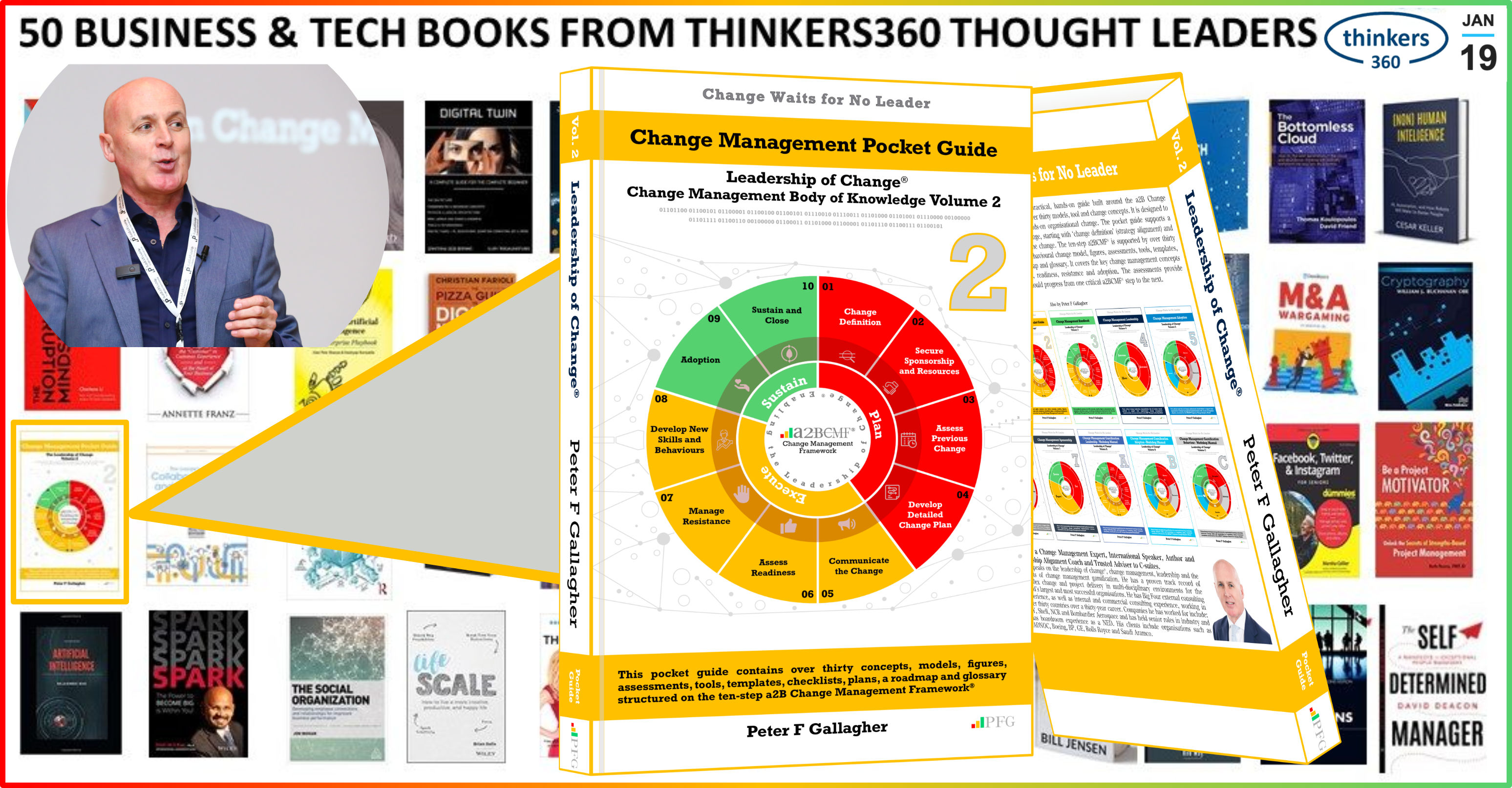 I always use the last few days of December to look back at some of the positives throughout the year. Granted 2020 has not been a great year for many of us and I sympathise with all those who have lost love ones or who have suffered in any way.
One of the positive things for me career wise during 2020 was to have my second book, Change Management Pocket Guide - Leadership of Change Volume 2, listed within the top 50 Business and Technology Books from Thinkers360 Thought Leaders.
A big thank you to Thinkers360 for this and the other rankings they have given me recognition for during 2020.
About this Book: This change management pocket guide contains over thirty concepts, models, figures, assessments, tools, templates, checklists, plans, a roadmap and glossary structured around the ten-step a2B Change Management Framework.
Who is this Pocket Guide for? All too often, change management implementation fails to deliver the expected organisation benefits or gain employee adoption. The a2B Change Management Pocket Guide is targeted at all employees going through an organisational change. It will help them to understand why organisations need to change, why they need to learn new skills and behaviours, and that becoming involved in shaping the change can be more fulfilling for them and their organisation. This guide is of particular interest to change practitioners, HR professionals, and project managers, including organisational managers and leaders.
This book can also be used as part of a self-study programme or as reference before, during, and after training to understand change management concepts, models, assessments, tools, templates, checklists and plans, as well as the roadmap and glossary.
Peter consults, speaks, and writes on the Leadership of Change®. For further reading please visit our websites: https://www.a2b.consulting https://www.peterfgallagher.com Amazon.com: Peter F Gallagher: Books, Biography, Blog, Audiobooks, Kindle
Blog Source: https://www.peterfgallagher.com/single-post/50-business-and-technology-books-from-thinkers360-thought-leaders
More on the Change Management Pocket Guide: Change Management Pocket Guide Leadership of Change Volume 2 Peter F Gallagher
#LeadershipOfChange #ChangeManagementLeadership #ChangeManagement
#a2BConsulting C-Suite Change Consulting, Change Leadership Alignment and Gamification
Keywords: Leadership, Change Management, Business Strategy