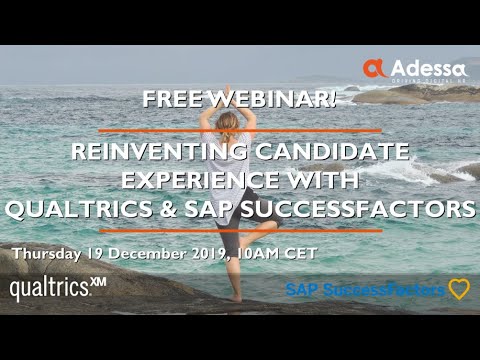 Reinventing Candidate Experience with Qualtrics & SuccessFactors
Adessa Group
December 19, 2019
Improving Candidate Experience is a top priority for many organizations, and there is no wonder why: the recruiting process offers a glimpse of the company culture.

A great Candidate Experience is key for a positive employer brand and future recruiting success. And feedback from candidates, whether they were successful or not, is what drives excellence.

Sven Ringling, from Adessa Group, presented a webinar on Reinventing Candidate Experience with Qualtrics & SAP SuccessFactors Recruiting, with the purpose of understanding how organizations can achieve a world class recruiting process.

Qualtrics, together with SAP SuccessFactors Recruiting, gives the opportunity to have an end-to-end process, feedback based, where candidates can directly help you improve your talent acquisition process.
Tags: Digital Transformation, HR, Future of Work