What is the Definition of Thought Leadership?
As part of the Thinkers360 2021 B2B Thought Leadership Outlook Survey, we asked Thinkers360 members to share their definitions of thought leadership. 
The purpose of the research was to better understand current and future trends with regard to both thought leadership producers and thought leadership consumers and their plans for 2021.
Firstly, we asked "Please share your definition of thought leadership." Here's some of the perspectives they shared with us:
Thought Leadership is the discipline of leading others to think deeper, see wider and embrace new changes and developments.
Showing the True North and providing the pathway to get there.
Being recognized as an authority in a specific field.
Knowing what's next.
Shining a light on new possibilities and the route to realizing them.
Thought leadership is an idea that is talked about in ways that others may not have considered before.
Thought leadership is an expertise in a specialized field which also serves to advance that field as it is known.
A striking point of view that sparks further thought and action.
Providing relevant, actionable insights on emerging issues and trends.
Key Attributes of Thought Leadership
We found that today's thought leadership content is far different from it's traditional stereotype. It no longer has to be peer reviewed, counter-initiative or even collaboratively produced. In fact these, traditional notions of thought leadership such as "peer-reviewed" (42%), "provocative" (36%) and "counter-intuitive" (36%) were cited by the majority as only moderately important.
The key is insightful, forward-looking content that's timely, relevant, impactful and engaging. Thought leadership consumers cited "insightful" (96%), "relevant" (91%), "forward-looking" (91%) and "impactful" (89%) as extremely important or very important attributes of thought leadership. It also has to be actionable, original and concise – all of which out-ranked the more traditional notions listed earlier.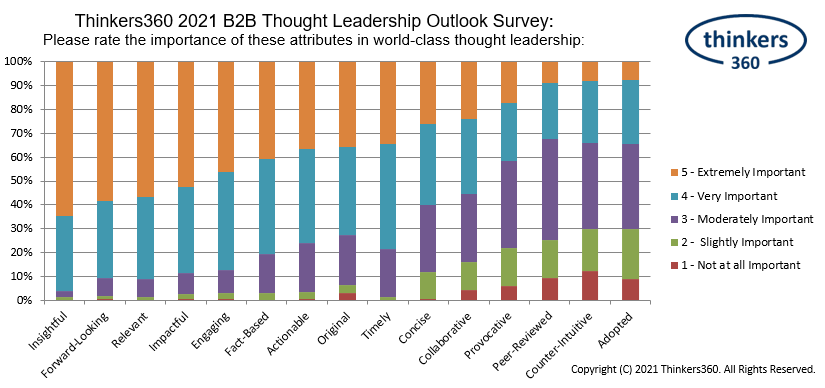 Benefits of Thought Leadership (Thought Leadership Consumer Perspective)
From a thought leadership consumer perspective (i.e. readers of thought leadership content), we found that "building subject matter expertise" (89%), "informing strategy" (87%) and "aiding decision making" (80%) were rated as extremely important or very important.
While "making purchase decisions" was only rated as extremely important by 10%, a total of 82% cited it as moderately important or higher.
While motivations and benefits of consuming thought leadership content vary widely, over 78% consider it moderately important or higher across all potential benefits.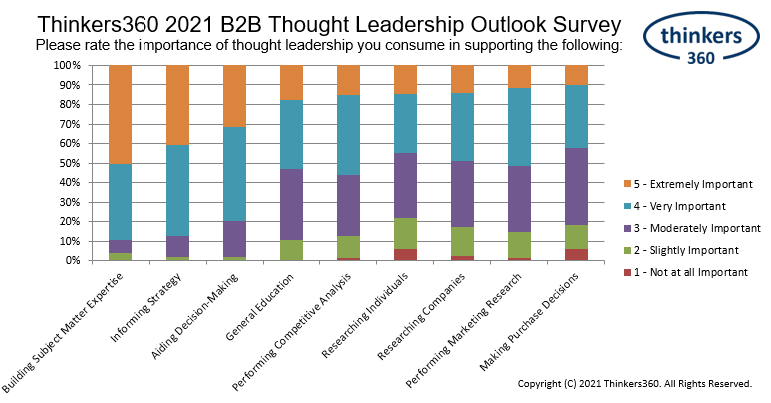 Benefits of Thought Leadership (Thought Leadership Producer Perspective)
From a thought leadership producer perspective (i.e. creators of thought leadership content), we found that "competitive differentiation" (84%), "brand perception" (82%), "customer trust" (82%) and "brand awareness" (79%) were rated as extremely important or very important attributes of thought leadership.
All ten thought leadership benefits were cited as moderately important or more by over 88% of participants.
Today's thought leadership producers are primarily using their thought leadership content for the front end of their sales and marketing funnel to improve their brand awareness and perception, customer trust and competitive differentiation.
Even downstream benefits such as lead generation, revenue generation and brand premium were cited by over 57% as either very important or extremely important objectives.
The complete report, including extensive analysis and interpretation, is available to Thinkers360 members at the Pro Plan level and above.
###
Join us on Thinkers360 — The World's Premier B2B Thought Leader & Influencer Marketplace!
Thinkers360 is the world's first, largest and premier B2B thought leader and influencer marketplace — including academics, analysts, authors, consultants, influencers and speakers — with over 100M followers on social media combined. We are differentiated by our unique patent-pending algorithms that measure thought leadership and authentic influence looking far beyond social media alone.
Individuals: Connect and work with global brands as an author, influencer, speaker and more. Showcase your thought leadership profile and portfolio, build your media kit, and participate in our global leaderboards and opportunity marketplace: Sign-Up (free) | Newsletter
Enterprise (including brands & agencies): For brand, influencer, content marketing and speaker bureau services – working with our network of premier opt-in influencers with 100M+ followers on social media – or to showcase your own corporate executives, thought leaders and content: Request an Enterprise Consultation | Explainer Video | Newsletter
Want to find and work with authors, influencers and speakers (including access to our unique thought leader profiles, portfolios, media kits, in-depth reports and analytics, personal introductions, and our zero-transaction fee speaker bureau)?
Contact us to discuss any of your thought leadership and B2B influencer marketing needs at info@thinkers360.com
For custom influencer lists, advertising and sponsorship opportunities, please contact info@thinkers360.com.