Are you a descision-maker? And if not would you love to know how to train that?
Thrive Global
June 28, 2020
Is there a way to train decision-making skills? According to a study by Harvard Medical School, the scientists were able to use magnetic resonance tomographs to show that mindfulness training can influence the structure of his brain in such a way that the front part of the brain, the prefrontal cortex, which is responsible for […]
Tags: Leadership, Culture, Health and Wellness
How can we convert negative Stress into positive Stress?
Thrive Global
January 09, 2020
That is a great point. Stress is not just negative. We distinguish the distress from the eustress. Stress can be positive and drive us to perform at our best.
Tags: Health and Wellness, Mental Health, Social
Your attitude to things can decide everything
Thrive Global
November 19, 2019
How you look at things makes the difference. People see things from different perspectives. One person perceives the glass as half full, the other person sees it as half empty. An unforeseen situation at work is normal for you, and your colleague may be under stress in exactly the same situation. When our mindset is […]
Tags: Health and Wellness, Mental Health, Social
Expert Fun with Catherin B. Roy
Catherin B. Roy
February 04, 2020
Tags: Business Strategy, Entrepreneurship, Sales
Podcast Interview
Andre Hollstein
June 01, 2022
Tags: Digital Transformation, Entrepreneurship, Mental Health
Mentorin @fementor
fementor
August 01, 2021
Tags: International Relations, Management, Startups
Burnout im Marketing & Vertrieb
Spotify
June 30, 2022
Tags: Digital Transformation, Management, Marketing
Stories of success: A refelction with friends on the global pandemic
Stories of Success
October 15, 2020
This week's podcast is a panel discussion with four former guests. We took a long time to manage all our diaries and I was glad when we finally got together to discuss Covid19, personal development, and how it seems the positive things that came from lock down. An episode going deep.

We are connecting more now, more intensely, and have less in-room tensions and emotions, going from one video call to another. Are we making the right connection? And what are we taking away from it, and how do we avoid the negative impact his pandemic and lockdown has on our our children for years to come.
Tags: Entrepreneurship, Health and Safety, Social
Anastasia Barner & Die Stress Managerin
Stephanie Schaffner
June 27, 2021
Anastasia Barner founded her first startup FeMentor when she was just 20 years old. The first females only reverse mentoring platform in German-speaking countries, Greece, Romania and England. She encourages young women to start and enter businesses about Generation Z and why reverse mentoring is so effective.

With over 18,200 followers on Instagram, she knows how to use social media for social projects and startups. She has already given talks at universities such as the EU Business School and events in front of 600 women and companies.
Due to her journalistic background, she has been the international TikTok face of Deutsche Welle since the beginning of 2020 and moderated the TikTok account.
For FeMentor and her commitment against cyber bullying, she received the B.Z. Berliner Helden Preis and was awarded the Femtec Award in the Leadership category in 2020.
Tags: Mental Health, Social, Startups
Die Stress Managerin
Stephanie Schaffner
April 05, 2021
Tags: Health and Wellness, HealthTech, Leadership
Die Stress Managerin
Stephanie Schaffner
January 07, 2021
Sind Sie Führungskraft, Selbständig, Unternehmer oder Angestellter und möchten lernen mit
STRESS GESUND UMZUGEHEN
IHRE RESILIENZ ZU STÄRKEN
LERNEN SIE STRATEGIEN, UM MIT IHREN TÄGLICHEN HERAUSFORDERUNGEN UMZUGEHEN
BURNOUT VORZUBEUGEN?
Haben Sie das Gefühl, dass Ihr Team im Laufe des Jahres an Kraft verliert? Ich kann Ihnen helfen, die Effizienz Ihres Teams zu steigern.

Willkommen bei meinem Podcast, in dem es um Themen wie Stressmanagement, Burnout Prevention und Best Practice für den Berufsalltag geht.

Schön, dass Sie da sind!

www.diestressmanagerin.com
Tags: Health and Wellness, HR, Leadership
Resilience and how can we strengthen it
Stephanie Schaffner
September 15, 2021
Training for an German and international logistic companie
Tags: Leadership, Health and Wellness, Mental Health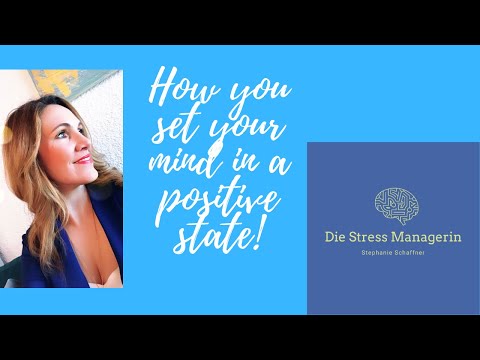 Video
Stephanie Schaffner
January 13, 2021
How to set your mind in a positive state!
Tags: Social, Leadership, Health and Wellness
Stressfrei ins neue Jahr
Stephanie Schaffner
December 10, 2020
For Deutsche Telekom
Tags: Health and Wellness, HealthTech, Leadership
Für deinen Job brennen ohne auszubrennen
Deutsche Telekom
September 15, 2020
For Deutsche Telekom I had the honor to give a LEX Session for 200 participants.
Learning from experts is the Community of Deutsche Telekom with over 17.000 members.

In this session the audience learned the stressmanagement basics and the 12 stages to burnout after Freudenberger & North.

Tags: Future of Work, Health and Safety, Health and Wellness