Proposition d'un Framework pour le ré-engineering des bases de données DB2 en SQL
CNAM
November 01, 2002
Proposition d'un framework opérationnel pour faire évoluer les fichiers développés en DB2 en structures SQL.
Démonstration de la pertinence de cette modernisation en termes de fonctionnalités et de productivité pour les développeurs.
Inspiré des travaux en cours chez IBM et des derniers travaux sur le sujet.
Tags: Big Data, Emerging Technology, Open Innovation
La déréglementation des télécommunications en Europe et l'impact sur la gouvernance des opérateurs publics : Etude de cas France Télécom
ENSPTT
May 05, 2000
Au cours des dernières années 1990, des changements considérables sont intervenus dans le secteur des télécommunications en Europe globalement en en France en particulier. Le bouleversement global qui a eu lieu engageait une restructuration dans certains cas, une privatisation dans d'autres.
Cette évolution de la réglementation a eu un impact profond sur le marché qui s'est ouvert à la concurrence poussant des acteurs publics comme France Telecom à se restructurer et à faire évoluer sa gouvernance pour s'adapter à ce nouveau contexte.
Tags: Customer Experience, Emerging Technology, Open Innovation
Mesure de la maturité des organisations des directions informatiques à l'ère des nouvelles technologies du Web et du e-commerce
Paris-Dauphine
March 01, 2000
L'évolution des systèmes d'Information des entreprises à l'aube des années 2000 était une étape importante pour engager les premières transformations du SI : le passage de l'an 2000 et l'intégration des évolutions technologiques liées au web.
Ces évolutions sont de plusieurs natures :
1. De nouvelles technologies et langages de développement WEB
2. L'essor des sites e-commerce
3. L'adaptation des organisations des directions informatiques (structure et projets)
Tags: Big Data, Customer Experience, Emerging Technology
Advisory for Data collection & Tech Partneship
Tribe
November 01, 2020
Application pour faire du sport chez soi.
C'est une nouvelle application de sport à la maison et entre copains avec des nouvelles fonctions novatrices sur le marché et qui répond également aux besoins classiques : aider à garder la forme et permettre de suivre les performances de près et sur la durée.
Tags: Big Data, Customer Experience, Entrepreneurship
Advisory for Agri-Tech
Granatis
August 01, 2017
Agri-Tech Start up française centrée sur les grenades issues de l'agriculture biologique avec mise en place de procédés novateurs dans la pression et la mise en bouteille des jus.
Un suivi des données sur toutes les étapes de la chaine de valeur permet un ajustement des process et un suivi des données de l'exploitation (semis, collecte, stock, transformation, …).
Tags: Big Data, Entrepreneurship, Open Innovation
πBox
PIzzaBOXpc
September 07, 2001
PIzzaBOXpc ou πzzaBoxPc - Projet de Start-up de dépannage informatique à domicile. L'assistance informatique évolue et les années 2000 ont connu une explosion d'internet ainsi que l'évolution des habitudes de consommation.
Le principe : un n° d'appel ou via le site web, on passe une commande (réparation ou livraison d'un accessoire), intervention à distance ou sur place dans l'heure, si besoin, à Paris et en Ile-de-France.
Le projet est certes avec une dimension business mais aussi :
- sociale avec des jeunes salariés non diplômés issus des quartiers défavorisés et qui suivent un cursus de 3 à 6 mois pendant lesquels ils bénéficient d'un encadrement et de contenus liés à la micro-informatique avant de devenir un πzzaBoxPc delivery.
- innovante : accès des outils en open innovation de diagnostic des pannes, d'accès distants pour la prise en main des ordinateurs, etc.. à travers un écosystème de jeunes start-up partenaires
[Initiative close].
Tags: Open Innovation, Startups, Entrepreneurship
Volunteer Advisory
Nature&Solutions
May 07, 2018
Conseil technique sur la collecte des données et leur analyse au service de l'environnement, de la protection de la faune et de la flore.
Tags: Big Data, Emerging Technology, Entrepreneurship
Volunteer Advisory
FOO
January 01, 1994
La Fondation Orient Occident a été créée en 1994. C'est une association privée à but non lucratif, reconnue d'utilité publique en 1996, elle oriente son action principalement en direction de la jeunesse des quartiers défavorisés par la mise en place des centres socioéducatifs et de formation professionnelle.
Des cours accompagnement avec des volontaires diplômés et un fonds documentaire riche issus de donations ou d'acquisitions en propre est mis à disposition des étudiants et des chercheurs.
Tags: Diversity and Inclusion, Social, Sustainability
Banking Transportation Summit 2020 - Banking tansformation & Fintech collaboration
QowtedNetwork
July 01, 2020
The power of partnerships is the new x factor for the financial services industry, which is undergoing a significant competition with the tech giants Google, Apple, Facebook, and Amazon. Partnerships are critical to staying ahead in a crowded market: partnering with the best companies specializing in a niche area saves time and resources, improves product time to market, and helps to accelerate the business' learning curve. What are the rules? What kinds of partnership? How to improve technology capabilities? …
Tags: Emerging Technology, Open Innovation, Fintech
THINK TANK - Data et Ethique : la relation client en mutation
Banque Publique d'Investissement - BPI France - Salon BIG
October 12, 2017
Transmettre un freed-back sur les expériences Data-Centric et Data-Driven afin d'aider et d'encourager les entreprises à réussir leur transformation autour des données et des nouvelles technologies dans un contexte de concurrence et de réglementation accrues.
Tags: Big Data, Emerging Technology, Fintech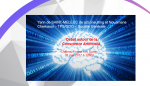 Intelligence Artificielle et Conscience Artificielle
Midi Pitch
May 31, 2017
Débat sur la Conscience Artificielle - Nouamane Cherkaoui & Yann de Saint Meleuc
Webinar Société Générale
Tags: AI, Big Data, Open Innovation