Managing Indirect Spend: Enhancing Profitability Through Strategic Sourcing
Wiley and Sons
November 08, 2011
Unique guidance for cutting costs regardless of economic conditions—without reducing headcount.
Successfully reduce costs in the area of indirect spend and watch your bottom line grow. Managing Indirect Spend provides you with the knowledge and tools necessary to get it done with an overview of: the challenges faced when sourcing indirect spend categories; strategic sourcing process; tools that can help drive savings, and examples based on real world experience. This how-to guide clearly covers specific sourcing engagements and provides the details needed to source effectively.
Tags: Procurement, Supply Chain
Navigating Ahead in an On-Demand World – Procurement's New Realm
Institute for Supply Management
May 18, 2016
Training on the future goals and objectives of procurement.
Tags: Supply Chain, Procurement, Business Strategy
Supply and Demand Chain Pro to Know
Supply and Demand Chain Executive
March 01, 2012
Thought leadership in advancing supply chain strategy
Tags: Procurement, Supply Chain
Medical Device Strategic Sourcing Conference - Day 1 Chairperson & Panel Lead
Medical Device Strategic Sourcing Conference
January 26, 2015
On Day One, Joe Payne will serve as the discussion moderator while industry expert panelists review the value of supplier relationship management. As medical device organizations establish partnerships with device component vendors, building relationships is key in addressing quality, cost and risk concerns. As this discussion unfolds, SRM will be established as a way to help firms get maximum value from existing supplier relationships, beyond the Strategic Sourcing/Procurement activity and contract signature.
Tags: Business Strategy, Procurement, Supply Chain
Rethinking Vendors - Strategic Sourcing and Procurement with Joe Payne
Rethinking Vendors
April 12, 2018
A discussion of challenges around managing spend.
Tags: Procurement, Supply Chain
Innovation Spotlight: Breaking the Procurement Outsourcing Mold
ProcureCon Pharma
April 10, 2017
In the pharmaceutical industry, the reasons to outsource strategic sourcing duties remain valid - getting access to a team of procurement subject matter experts with knowledge of the industry's best practices and regulations, the lack of ROI associated with adding resources to manage every spend category, and the need maintain if not decrease headcount, to name a few. But once the savings are achieved, the business case for traditional outsourced procurement can seemingly fade away – especially if the solution is not scalable. This talk will demonstrate how to stay ahead of the curve to maximize your ROI in both the short- and long-term and enable your organization to meet its current and future objectives.
Tags: Procurement, Supply Chain
Huge Savings Available with Collaborative Sourcing
Unimarket NOW
October 02, 2012
In the afternoon following the panel discussion, Dorn and Payne will present "Huge Savings Now Possible with Collaborative Sourcing" discussed various sourcing strategies for the education industry and how specific sourcing techniques can help education procurement professionals create collaborative relationships with suppliers and build lasting business partnerships.
Tags: Innovation, Procurement, Supply Chain
Managing Disruption Through Procurement Agility
Corcentric
May 27, 2020
Webinar with Hackett on what agility means for procurement.
Tags: Supply Chain, Procurement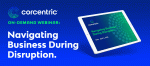 Navigating Business During Disruption
Corcentric
April 03, 2020
The COVID-19 pandemic is presenting enormous challenges to business continuity for organizations of all sizes and industries. This latest, and in many ways severest, disruption to "business as usual" demands an immediate response in order to ensure continuity. But just as important, what that response is will have a direct impact on an organization's long-term viability.
Tags: Supply Chain, Procurement, Business Strategy, COVID19
Factors to Consider in Choosing and Implementing a Source-to-Contract Suite
Determine
March 12, 2020
To succeed in implementing source-to-contract (S2C) strategies, CPOs and their business partners need to identify solutions that can best meet their needs as a business.
This often means finding the right partner that can provide a combination of deep category expertise, industry knowledge and proven technology for delivering meaningful improvements across the processes that define upstream procurement.
Tags: Digital Transformation, Procurement, Change Management
Why The Best CFOs Don't Ignore Spend Analysis
www.cfo.com
March 10, 2020
Spend analytics solutions are often overlooked by CFOs as they seek ways to better align procurement and finance. But why should finance leaders pay attention to spend analytics? Organizations
with better spend analysis strategies typically have more mature procurement processes.
Tags: Business Strategy, Procurement, Supply Chain
Procurement 2020
Source One Management
January 15, 2020
The first "Procurement 2020" report I came
across was a Spend Matters article - back in
2013. Back then, there was a lot of hope in
what we would accomplish by 2020. Key
themes in that report included talent,
technology and risk mitigation. Sound
familiar? Because those themes are still
present today – not much has changed in 7
years.

Tags: Business Strategy, Procurement, Supply Chain
Procurement Transformation: Industry Perspectives, Part 2 - The Right Mindset
Source One Management
May 01, 2018
Why do so many Procurement Transformations come up short? The Art of Procurement's Phil Ideson has a few ideas. Kicking off the second installment of Procurement Transformation: Industry Perspectives, he suggests Procurement could afford to do some soul searching. Before the department can transform its operations, he argues, it needs to transform the way it thinks about its self, itsrelationships, and its essential role within an organization.
Tags: Business Strategy, Procurement, Supply Chain