Mapping Out a Modern Process Flow:How to Build a Strategy to Digitize and Automate Your Business Processes
Bob Larrivee Consultancy
August 03, 2019
This workshop provides attendees with a practical approach to creating a process map; recommending process change options; standardizing business processes across the enterprise; understanding how automation will enhance operations and reduce costs; and prepare for implementation and change management within the user community.
Tags: Change Management, Design Thinking, Leadership
See the Forest Through the Trees: Information Governance and Risk Management
Bob Larrivee Consultancy
October 02, 2018
Hey Las Vegas, I'm headed your way to keynote a great event focused on Information Governance and Risk Management. Check it out!
Tags: Management, Leadership, Risk Management
Come Not Your Father's Capture Session: The Paperless Office Needs Intelligent Document Automation
Document Strategy Forum
May 07, 2019
These days, why do you still need to care about capture? Isn't everything digital? Well, no. This reality is still quite a ways off. So then, how can we innovate our capture operations today? In this panel discussion, we'll look at how to solve our outstanding issues within the current landscape, reduce manual intervention, and the next-gen technology tools to bridge the gap between old-school practices and the brave new world of digital transformation.


Tags: Digital Transformation, Leadership, Future of Work
The Role of Corporate Leadership
Bob Larrivee Consultancy
November 06, 2018
There is a video I ran across and viewed this morning - This Is Why You Don't Succeed - Simon Sinek on The Millennial - that really got me thinking about corporate leadership today.

In this video, there is discussion about why millennials are the way they are and the reasons they act the way they do....
Tags: Culture, Leadership, Management
Where Will Your Data Be Coming From? Exploring Data sources of today and tomorrow
Bob Larrivee Consultancy
August 06, 2019
This session looks at the sources of data today, and considerations for data sources and collection over the next several years. While we have data streams in place now, feeding our information systems, the information ecosystem is ever expanding with data capture occurring in real-time through formal and informal input sources, and devices that are available in some cases, but not thought of as a data source. In the near future, data capture will be as simple as the blink of an eye, but business organizations must plan for them.


Tags: Business Strategy, Design Thinking, Emerging Technology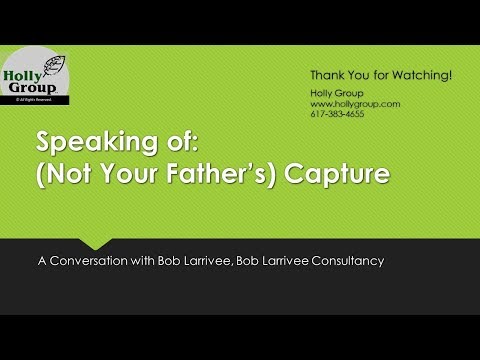 Not Your Father's Capture
Holly Group
November 15, 2018
Thank you InfoGov Guy @steveweissman. It was great to catch up and talk with you about the world of capture.
Tags: Digital Disruption, Emerging Technology, Future of Work
As I See It: Change Requires Respect
Bob Larrivee Consultancy
October 03, 2018
In this inaugural podcast episode, we look at how respect plays into change management and moving an organization forward. This is based on an infographic that is available for free on our website. www.boblarriveeconsulting.com

We hope you enjoy this podcast and welcome your feedback to help us improve.


Tags: HR, Leadership, Management
AIIM Certified Information Professional (CIP)
Bob Larrivee Consultancy
March 25, 2019
The Certified Information Professional (CIP) designation is designed to enhance and promote the profession of information management by providing the premier credential in the industry. CIP accomplishes this mission by establishing standards, creating a fair examination process, granting certification to information professionals who meet its standards, and communicating the value of the credential to employers and clients.


Tags: Change Management, Digital Disruption, Digital Transformation
AIIM Certified Information Professional
AIIM
March 25, 2019
In exactly 1 week from today, I will be delivering the AIIM CIP course at AIIM 19 in San Diego. Will you be there? Will you be in my class?

We will discuss and learn about best practices for information and process management.
Tags: Customer Experience, Design Thinking, Digital Transformation
Prepare for a Disaster
Bob Larrivee Consultancy
September 11, 2018
My latest free infographic on disaster preparedness, just for you.

Tags: Cloud, Design Thinking, Leadership