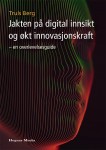 The hunt for digital Insight and increased innovation impact
Hegnar Media
August 01, 2021
9 out of 10 companies are nowhere near realizing their potential - this is Norway's biggest challenge on the journey towards a digital future!

Digital insight and increased innovation power are in demand like never before, but what does this mean for you and me - and for generation Y, like everyone else -ready in 2025 make up over 75% of the workforce?

The world is changing at an express pace, yesterday's truths do not apply anymore. Before we invested in time to save money, now we invest money to save time. There are therefore great opportunities in creating innovative products and services that are time-saving, cost-reducing and value-creating. The future is digital and network-based, and insight into what happens, and not least why it happens, has never been more important. The book also addresses three enduring myths that should be killed, five mega-trends that govern most of what happens in the kingdom and seven shifts few of us have taken over. As if this is not enough, the author urges us all to make three national lifts before that too late: His claim is that Norway desperately needs an inspiration boost, a innovation boost and an insight boost.

We are traveling towards a time where the digital and the green shift will melt together. Along the way, our self-insight will develop, the value systems change and society change. Your success will be a result of your ability to exploit the potential of increased digital insight - and innovative power.

The search for digital insight and increased innovative power is a survival guide for Norwegian change agents who have realized that new times require new measures.
Tags: Change Management, Innovation, Startups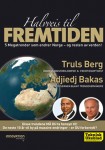 Halvveis til fremtiden - 5 megatrender som endrer Norge og resten av verden
ISBN 978-90-820766-6-0
September 04, 2019
Tags: Digital Transformation, Emerging Technology, Business Strategy
"Informasjonshavet : en overlevelsesguide for morgendagens verdiskapere"
IDG Books Norge
June 24, 2008
I løpet av de siste 50 årene er det skapt et stort digitalt informasjonshav. Alt tyder på at denne bølgen vil bli enda større og innebære enorme muligheter – og også betydelige utfordringer. De neste fem årene har blitt spådd å bli avgjørende og turbulente. Denne boken gir nyttig bakgrunn og oversikt over disse utfordringene. I tillegg pekes det på konkrete informasjonsveivalg som norske virksomheter må gjøre. Det legges spesielt vekt på at de virksomhetene som lærer seg å utnytte smarte informasjonsdrevne løsninger vil være fremtidens vinnere. Truls Berg er en av Norges mest kjente IT-profiler, mens Inger-Mette Gustavsen er seniorforsker i Det Norske Veritas.
Tags: Innovation, Startups