Rutgers University - Board of Advisors
Rutgers University
January 01, 2018
I'm on the Board of Advisors for Rutgers University Cybersecurity Program and often give guest lectures, participate in panel discussions and actually teach different subjects with respects to my domain expertise.
Tags: Cybersecurity, InsurTech, Risk Management
Accelerating the Cyber Insurance Revenue Engine
InsurTechnews
March 13, 2019
In the arms race for cyber insurance market share, we're seeing carriers offer more coverage while reducing premiums and the amount of data collected from their insureds

With more than 170 US Carriers now offering cyber insurance, it's easy to see that market participation is accelerating at an alarming pace. What's concerning, however, is that the market's understanding of cyber risk and its financial impact has struggled to keep up with premium growth.

The limited history and lack of quantified, verified and contextual data about this emerging exposure is constraining the industry's ability to grow. If we can't effectively measure the financial impact of our insureds' cyber risk and thus insurer capital requirements, how can we expect to cede more capacity to reinsurers and ultimately the capital markets through ILS in an ecosystem operating without transparency.
Tags: Cybersecurity, InsurTech, Risk Management
What is GDPR and How Will it Affect Us?
Bitly
May 30, 2018
THE GENERAL DATA PROTECTION REGULATION (GDPR) IS A SWEEPING REGULATION DUE TO TAKE EFFECT IN THE EUROPEAN UNION (EU) MEMBER STATES AND THE UNITED KINGDOM IN MAY 2018.

Through the regulation, the EU has outlined protections for every individual citizen's personal data. The new legislation has huge implications for companies around the world that have any kind of market in the EU. Especially businesses that rely on consumer data.
Tags: Cybersecurity, Privacy, Risk Management
The New Cyber Insurance Paradigm
Insurance Thought Leadership
May 16, 2018
Two big problems: There is absolutely no standardization in the data that cyber insurers collect, and it quickly becomes outdated.

Across industries, many mature organizations have become acutely aware that their industrial-based business models, which strive for control, efficiency and scale, are not designed for speed, innovation or individualized customer experiences. Corporate leaders have no option but to consider using cloud-based platforms, but that introduces new vulnerabilities.

Finding an appropriate balance between cybersecurity and privacy strategy while allowing for innovation is of fundamental importance.

As all businesses will become "data companies" in the digital networked world, the cyber insurance industry needs to adapt to effectively underwrite and manage the most dynamic risk in the world.
Tags: Cybersecurity, InsurTech, Risk Management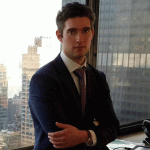 #50 InsurTech Influence List
InsurTech News
June 01, 2019
Have been regarded as a global top 50 InsurTech Influencer for over a year
Tags: Cybersecurity, Risk Management, InsurTech
2017 New York City's "33 Under 33"
Ascent ? Insperity / StrtUp Boost / Cheddar / Rapid Square / MSCO / WISS
July 01, 2017
Invitation only award dinner among 100 of the most influential Founders and Professionals from the NYC Startup Ecosystem. Nominations are open to all those in the Greater NYC Entrepreneurial Ecosystem across 11 categories. Voting will be conducted via the RapidSquare app only. Votes can only be cast for 1 of the 6 Nominees in each Category.
Tags: Entrepreneurship, InsurTech, Startups
How to Effectively Underwrite and Manage Cyber Insurance in the Digital World
Digital Insurance 2018 Conference
May 15, 2018
Cyber risk is not only new and difficult to understand and quantify for directors, but it also remains difficult to understand from insurance underwriters, which ultimately confines the total amount of limits and coverage that insurers are willing to offer. Insurer's need to shift towards continuous, standardized cyber risk insights via a digital platform that streamlines the underwriting process, yet offers more comprehensive data than a standalone application and also has the data immediately available for analysis and continuously analyzing an insured's risk throughout the policy period.
Tags: Cybersecurity, InsurTech, Risk Management How Finance Companies Use Big Data To Personalize The Customer Experience
Bitly
March 02, 2017


In early March, Global Cyber Consultants' President, Steven Schwartz, joined the CFO of Bitly, Peter Nesbit to discuss how finance companies can use big data to personalize the customer experience with advice surrounding data privacy and cyber security concerns.




Tags: Big Data, Fintech, Innovation