Secretary Null Community
Null Community
October 30, 2018
Secretary for Null community.

null is one of the most active, open security communities. Registered as a non-profit society in 2010. One of the main objectives for null is spreading information security awareness. In a calendar year, null chapters host about 100+ events across security domains and impact about 8000-10000 security professionals, enthusiasts, and beginners with their initiatives. null is open, professional, inclusive, responsible, and most importantly completely volunteer-driven.

Responsible for
1. Helping with managing the society operations.
2. Helping drive newer directions
Tags: Cybersecurity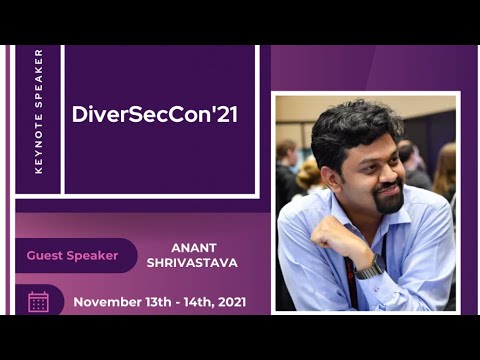 My 2 Paisa's on Infosec World
DiverSecCon
November 14, 2021
I have delved into my experience and tried to summon my internal thought leader and speak to all sections of infosec industries

Freshers
Employers
Defenders
Attackers

Hopefully everyone will have something to take away from this.
Tags: Cybersecurity, Diversity and Inclusion, Leadership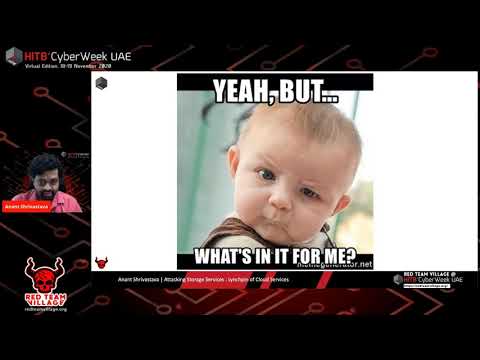 RTV: Attacking Storage Services: The Lynchpin Of Cloud Services
Red Team Village @ Hack in the Box
February 04, 2021
We all agree that most organizations have some or the other service leveraged over cloud environments. To add to it, there are assets that are not linked directly to the public and not easily spotted. When it comes to Red Team Engagements it boils down to a simple statement. "Are you able to find something that wasn't supposed to be visible in the first place ?". Storage services by the cloud providers are usually not visible directly to the end user and are often overlooked by pentesters and Red Teamers. In this talk we will be leveraging the possibility of Storage Services of different cloud vendors and how if not properly configured could lead to a lot of Damage to the organization.
Storage services are almost always the second service started by cloud vendors after IaaS, it is done in that order for a reason. Cloud Storage irrespective of how simple it looks, is a complex deeply integrated component for cloud services. The primary purpose of storage services is to hold data of all kinds, besides its primary function it also performs multiple other actions. Storage allows building higher abstraction services on top of the it such as:
Static file hosting,FaaS or PaaS code hosting and Log storage
Due to its versatility storage is an area which should be looked at with a fine tooth comb. However the situation is far worse than what we can imagine. From exposing buckets to public, to leaking api keys or ssh keys in public. Things go from bad to worse when buckets also are leaking write access to source code leading to full account takeover scenarios. This talk will cover the following aspects around Cloud Storage Services.

1. Basics of Cloud Storage Services and why to target them
2. Attack Methodology to be followed
3. Various attack scenarios from real and bug bounty world
4. What are cloud vendors doing to protect this
5. What the developers or admins have to keep in mind
6. Question and Answer
Note: Case studies will be interspersed throughout the slides
Tags: Cloud, Cybersecurity, DevOps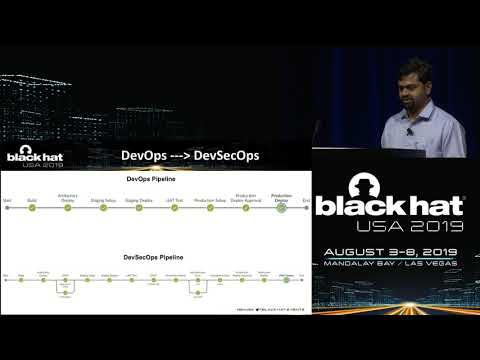 DevSecOps: What why and How
BlackHat USA
August 08, 2019
Security is often added towards the end, in a typical DevOps cycle through a manual/automated review. However, with DevSecOps, security can be injected at every stage of a DevOps pipeline in an automated fashion. Having a DevSecOps pipeline enables an organization to:

* Create a security culture amongst the already integrated "DevOps" team.
* Find and fix security bugs as early as possible in the SDLC .
* Promote the philosophy "security is everyone's problem" by creating Security champions within the organization.
* Integrate all security software centrally and utilize the results more effectively.
* Measure and shrink the attack surface.

In this talk, we shall focus on how a DevOps pipeline can easily be metamorphosed into a DevSecOps and the benefits which can be achieved with this transformation. The talk (assisted with various demos) will focus on developing a DevSecOps pipeline using free/open-source tools in various deployment platforms, i.e. on-premise, cloud native and hybrid scenarios. We will then dive into cultural aspects of DevSecOps and the changes needed to get tangible benefits. The talk will also present various case studies on how critical bugs and security breaches affecting popular software and applications could have been prevented using a simple DevSecOps approach.
Tags: Cybersecurity, DevOps, Startups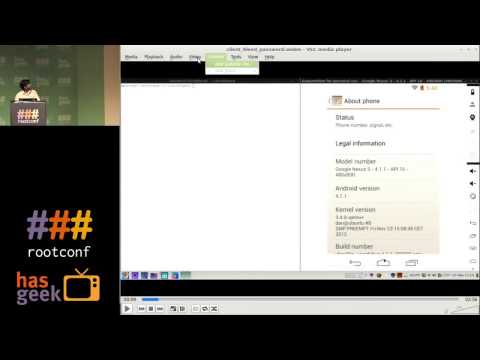 When the Internet Bleeded
RootConf by HasGeek
June 05, 2014
The talk will talk about various TLS / SSL related bugs that are identified in past year.

HeartBleed
GNUTLS Bug
Apple SSL Bug
Lucky 13
BEAST
CRIME
These bugs have shaken the core premise of Secure communication. The talk will focus on bringing a basic understanding of these issues to the administrators or developers. Besides this the talk will also focus on some burning questions that are now raised in wild. Such as

How secure are secure Socket Libraries?
Is opensource code really secure?
Is it really true that "given enough eyeballs, all bugs are shallow"?
Should we move towards higher abstract languages?
and most important.

What it really means for a Administrator / DevOps person
Tags: Cybersecurity, DevOps, Supply Chain
Attack and Defend Android Applications
BlackHat USA 2022
August 06, 2022
Begineer / Intermediate level course covering tips and tricks around android application attack and defense.

Details are available at https://cyfinoid.com/android-application-training/ or publication page.
Tags: Cybersecurity, DevOps, Mobility
Security Issues in Android Custom ROM's
Self-publishing
October 16, 2011
This paper attempts to look behind the wheels of android and keeping special focus on custom rom's and basically check for security misconfiguration's which could yield to device compromise, which may result in malware infection or data theft.


Tags: Cybersecurity, Mobility
Web application finger printing
Self-publishing
July 17, 2011
This Paper discusses about a relatively nascent field of Web Application finger printing, how automated web application fingerprinting is performed in the current scenarios, what are the visible shortcomings in the approach and then discussing about ways and means to avoid Web Application Finger Printing.


Tags: Cybersecurity, DevOps