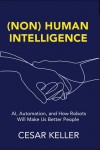 (NON) HUMAN INTELLIGENCE
Collective Brains
December 08, 2018
We are living through the first stages of the Fourth Industrial Revolution. Workers of all stripes, at all levels, stand to be replaced by machines— by artificial intelligence, in most cases, which is only beginning to have its impact. In years to come, lives will be disrupted. Jobs will be lost. But the news is not altogether bad. ​

(NON) HUMAN INTELLIGENCE shows how the changes to come can be leveraged in favor of the many and not the few. The revolution can be turned to our advantage. Chapter by chapter, the book walks us through how that can be done, with attention to the need for constant education, the rising importance of collective intelligence, and the changing face of leadership, among other things.

There is a great deal of potential in moments like this, when the old structures crumble and we must build something new. The new machines will threaten the status quo. But we must look always to the future. If we play our cards right, we can abandon the strictures of everyday labor in favor of rediscovering the best parts of being human. ​
Tags: AI, Digital Transformation, Future of Work