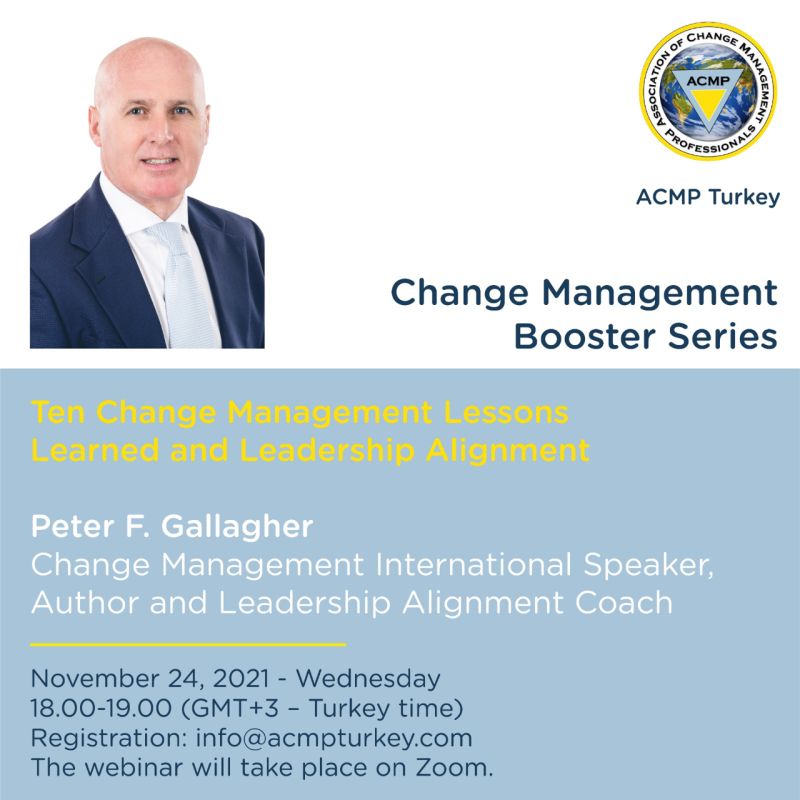 Webinar Title: Ten Change Management Lessons Learned and Leadership Alignment
Peter uses the Leadership of Change® in his engagements with organisational leaders to prepare them for their change or transformation journey. In this webinar, he will speak on two associated topics:
Ten Change Management Lessons Learned All Leaders Should KNOW: Peter speaks about 10 key lessons learned from implementing change and improvement transformation programmes. He brings these key lessons to life with stories and provides tips on each, so similar mistakes can be avoided by leadership teams.
"Change waits for no leader and the skills required for leading day-to-day operations are very different to change leadership"
Change Leadership Alignment: The change question set Peter asks all leaders is: "Do you know your organisation's change history? Do you have a change vision? Are you aligned on your strategic objectives? Are you a high performing team? Does your team have change leadership skills to lead the change or improvement that your organisation is facing?" In this topic, Peter will discuss some of the steps of his change leadership alignment process.
"The best leadership teams have purpose, they are aligned on their strategic objectives, they are a high performing team and have change leadership skills to navigate 4IR"
I first joined the ACMP in 2016 when I was working in Abu Dhabi, UAE, for a Big 4 Consultancy as an Advisory Strategy Execution Director. I was one of the first 500 people globally pass the highly recognised Certified Change Management Professional™ (CCMP™). I joined the board of the ACMP UK Chapter as Vice President in 2019, voted into the role by ACMP UK members and I held the position for two years, August 2019 to September 2021. It was a great pleasure to then be voted, by global ACMP members, onto the ACMP Global BoD in September 2021.
Webinar Contents:
Change Management Benefits
Ten Change Management Lessons Learned All Leaders Should KNOW:

Change Definition
Sponsorship and Resources
Assess Previous Change
Develop Detailed Change Plan
Communicate the Change
Assess Change Readiness
Manage Resistance
Develop New Skills and Behaviours
Adoption
Sustain and Close

The Crucial Process of Change Leadership Alignment
Q&A
Event Details:
This is part of the Turkey Global Entrepreneurship Week (GGH) and the first webinar of the Change Management Booster Series.
Wednesday 24th November: CST 09:00 to 10:00 or UK time 15:00 - 14:00 or Turkey time 18:00 - 19:00.
Don't miss out and sign up today at https://lnkd.in/dT8CvM-W
Blog Source: https://www.peterfgallagher.com/single-post/acmp-turkey-nov-2021-peter-f-gallagher-speaking-on-the-leadership-of-change
More on speaking keynotes: https://www.peterfgallagher.com/speakerservice
Peter consults, speaks, and writes on the Leadership of Change®. For further reading please visit our websites: https://www.a2b.consulting https://www.peterfgallagher.com Amazon.com: Peter F Gallagher: Books, Biography, Blog, Audiobooks, Kindle
Leadership of Change® Body of Knowledge Volumes: Change Management Body of Knowledge (CMBoK) Volumes 1, 2, 3, 4, 5, 6, 7, A, B, C, D & E available on both Amazon and Google Play:
~ Leadership of Change® Volume 1 - Change Management Fables
~ Leadership of Change® Volume 2 - Change Management Pocket Guide
~ Leadership of Change® Volume 3 - Change Management Handbook
~ Leadership of Change® Volume 4 - Change Management Leadership
~ Leadership of Change® Volume 5 - Change Management Adoption
~ Leadership of Change® Volume 6 - Change Management Behaviour
~ Leadership of Change® Volume 7 - Change Management Sponsorship
~ Leadership of Change® Volume A - Change Management Gamification - Leadership
~ Leadership of Change® Volume B - Change Management Gamification - Adoption
Coming soon:
~ Leadership of Change® Volume C - Change Management Gamification - Behaviour
~ Leadership of Change® Volume D - Change Management Gamification - Sponsorship
~ Leadership of Change® Volume E - Change Management Gamification - Leadership Teams
Keywords: Leadership, Change Management, Business Strategy