The Remarkable Effect
The Choir Press
February 02, 2020
Remarkable is more than just a word. It's a vision. It's the art to create meaningful impact to prospects and customers. Being remarkable is something that I believe every company can achieve. The Remarkable Effect was written to help tech-entrepreneurs-on-a-mission shape the software business they've always aspired to run: Remarkable and Impactful.
Tags: Innovation, Entrepreneurship, Business Strategy
The GC People Leader Series meets…Game Changer Ton Dobbe
Dialog Review
August 05, 2020
In this edition of The GC Index People Leader Series Lucy Brown talks to Ton Dobbe, Founder and Chief Inspiration Officer at Value Inspiration about what it is to be a leader and how his natural proclivities support his effectiveness as a leader.
Tags: Entrepreneurship, Innovation, Leadership
We're at a stage where tech has the power to amplify people's skills beyond their natural limits
Value Inspiration
October 11, 2018
Exponential results are created when humans and machines work together.
Once you combine these powers together it magnifies the core strengths that we have forgotten about
Our Creativity strengths…
 
That's what we should strive for.

Intelligence augmentation is where we should focus the discussion
To build solutions that make people better – not just automate them out of a process

Once we do that, we'll create a world that's fun to work and live in

Tags: AI, Digital Disruption, Emerging Technology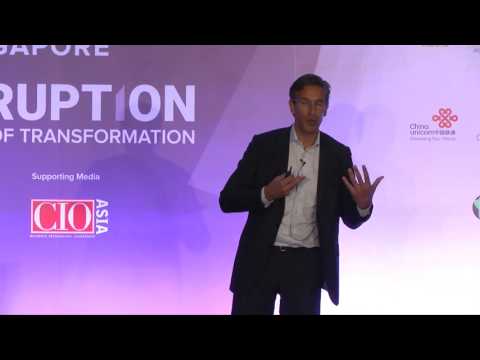 How do organisations go "Back to the Future"
CIO Conference 2017
April 16, 2017
How do organisations go "Back to the Future" and combat disruption in their sector? Ton Dobbe, Chief Evangelist, Unit4 explains.
Tags: Digital Transformation, Digital Disruption, Innovation
Start planning from your vision, rather than your present
IDG
July 14, 2016
Digital Transformation drives the agenda of (m)any organization(s). It's a critical undertaking to stay relevant in a world that's where nothing appears to remain the same as digital innovation is reshaping the markets we operate in, the competition we face, and the business models we've become so familiar with. But how do you go about - what are the do's and don'ts?
In this keynote, I take your audience on a journey and inspire them with examples of successful transformations where the mantra was: Start planning from your vision, instead of from your present.
Tags: Digital Disruption, Digital Transformation, Leadership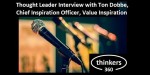 Thought Leader Interview with Ton Dobbe, Chief Inspiration Officer, Value Inspiration
Thinkers360
May 28, 2019
Thinkers360 Interviews profile prominent members of the Thinkers360 community who embody the power of ideas in their work. In this edition, we speak with Ton Dobbe, Chief Inspiration Officer, Value Inspiration.
Tags: Leadership, Marketing
Standing out in a crowded marketplace with Ton Dobbe
Dr. Diane Hamilton
March 08, 2019
As the marketplace becomes more crowded, many organizations find it harder and harder to stand out. If they do not rise above, this will cause for momentum and the creation of products to stop altogether. Recognizing this problem, Ton Dobbe, Chief Inspiration Officer at Value Inspiration, helps CEOs stand out in their category, most especially those in the software industry. Ton talks about getting CEOs to become more innovative. He lays down the common mistakes organizations make when it comes to their foundational ideas and gives out great points to think about in order to overcome those.
Tags: Leadership, Marketing