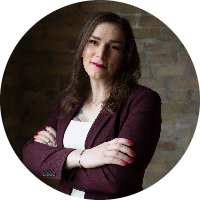 Alyssa Miller
Chief Information Security Officer (CISO) at Epiq Global
Milwaukee, WI, United States
Alyssa Miller is a hacker/researcher, security advocate, and security leader. With over two decades of experience in IT, first as a programmer and then as a penetration tester and security consultant, Alyssa has earned a reputation for being able to credibly operate on both sides of the fence between technical experts and high-level business executives.

A naturally curious lover of technology, Alyssa has always had a passion for deconstructing technology to learn how it functions and improve upon it. Computers, in particular, have fascinated her since she was in pre-school when her father would bring home a computer from work. At the age of 12 she saved up enough money to buy her first computer on which she taught herself BASIC programming, operating systems and even asynchronous communications protocols. Still it wasn't until after three semesters of pre-med studies at Marquette University that Alyssa finally found her career calling and switched to the Computer Science program.

Alyssa's professional track record includes heading the enterprise security testing and vulnerability management program for a Fortune 500 Financial Technologies firm, leading the application security program practice for highly respected boutique consulting firm, and her current role as SVP and CISO for Epiq Global.

Alyssa speaks internationally at industry, vendor, and leadership conferences on topics ranging from technical security vulnerabilities, to high-level security program strategies, to issues within the security community itself. She is a member of the board for Epiphany Solutions Group and engages with the community through her blogs, video content, podcast appearances, and social media presence.
Available For: Authoring, Consulting, Influencing, Speaking
Travels From: Milwaukee, WI
Speaking Topics: Application Security, Cyber Security Strategy, Emerging threats and trends