Vice-Président, USA & Canada
Fluxym
May 20, 2016
Founder and in charge of North America at Fluxym. Member of the group Board.
Tags: Digital Transformation, Leadership, Procurement
SDCE Pro to Know 2018
SDCE Magazine
October 01, 2018
Awarded Pro to Know by Supply & Demand Chain Executive magazine in 2018.
Tags: ERP, Procurement, Supply Chain
Supply Chain Canada (SCMAO) Leadership series digital panel
Supply Chain Canada
November 13, 2019
Digital Procurement: Benefits and Factors of Success

Why digital procurement and why now
How does digital procurement boost efficiency and reduce costs
What are the key factors for its success
How can digital procurement help build AI-enabled predictive model to improve future decision-making
What is Next Generation Digital Procurement
Tags: Supply Chain, Procurement, Leadership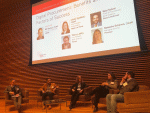 Supply Chain Canada Leadership series - Digital Procurement
Supply Chain Canada
November 13, 2019
November 2019 at Schulich school of Business.
Digital Procurement: Benefits and Factors of Success.
With Kristie Syndikus of Mapleleaf Distribution Private Limited, Wael Safwat, FCIPS ExDip Chartered, FCMI, FInstLM of Black & McDonald, Natascha Schijven of Pinwheel & Bill Siomos of OMERS.
Tags: Digital Disruption, Procurement
SCMA National Conference
SCMA
May 29, 2019
Panel leader on the Future of Procurement
Tags: Digital Transformation, Procurement
IT transformation
Percy Miller
June 20, 2021
Podcast from Percy Miller about IT transformation trends
Tags: Digital Transformation, ERP, Procurement
The Top 10 Critical Success Factors for Source to Pay Implementations
Joel Collin-Demers for PURE PROCUREMENT
October 01, 2019
On this second episode of the Pure Procurement Podcast, I am joined by Thierry Jaffry to discuss the top 10 critical success factors to consider before starting your S2P software implementation.

Thierry is Vice-President for the North-American market and Global Chief Marketing Officer (CMO) of Fluxym, a global leader in Source to Pay consulting services. Thierry has been working in the procurement space for over 10 years, working in various roles with both software providers and consulting firms.

Can you guess which factors came out as the most important?

System selection
Choice of partner
Clear project objectives
Team selection
Deployment plan
Supplier Enablement (SE)
Data quality
System customization
Change management
Governance
Tags: ERP, Supply Chain, Procurement
Experts' view on Source-to-Pay, a collection of testimonials
Fluxym
September 22, 2019
The difference between good preparation and bad is the success or failure of your project.

"The logic is the same as in a Formula 1 team.
The levers to activate are very sensitive.»

Graham Communications

No matter where your organization is, this document will guide you in your assessment and preparation, long before you even choose your S2P solution.

Don't miss out, reap the benefits and confidence of our highly specialized S2P expertise!
Tags: Digital Transformation, Procurement
The real impact of Supplier Data
Fluxym
June 06, 2019
Fluxym and Grant Thornton jointly published a White Paper on Supplier Data Issues

Supplier data is the cornerstone of Purchasing performance. Whether in category analysis, invisibility on the expenses, in anticipation of risks or in operational efficiency, a qualitative update of the data without duplication is strategic. And all the more so as digitization accelerates.
Tags: Big Data, Digital Transformation, Procurement