Hitachi Wins Award for Hybrid Cloud Solutions Portfolio
linkedin
September 06, 2017
We're happy to announce that Hitachi Data Systems is the latest recipient of the 2017 Stratus Award for our private and hybrid cloud solutions framework. We call this framework the Hitachi Enterprise Cloud (HEC). It includes a range of cloud solutions that provide a public cloud experience inside the firewall of your operation. Ultimately, it's our customers that are winning, standing up a private/hybrid cloud in as little as 60 days.


Tags: Cloud, IoT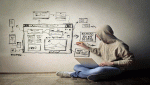 Hybrid Cloud and The Future of the Digital Enterprise
linkedin
September 26, 2016
We are providing a hosted, interactive session for IT professionals in DevOps, architecture, strategy, cloud, business transformation, infrastructure, and office of the CIO positions, from major enterprises in the Bay Area. We will bring together senior enterprise IT leaders for an interactive discussion that will share lessons learned and experiences about how leading organizations work with the Hybrid Cloud.


Tags: Cloud, Digital Transformation, DevOps