Selling with Noble Purpose - How to Drive Revenue and Do Work That Makes Your Proud
Wiley
August 01, 2020
Don't let anyone tell you that you have to choose between making money and making a difference.

Selling With Noble Purpose: How to Drive Revenue and Do Work That Makes You Proud, 2nd Edition is an update of the acclaimed book that changed the game in sales. Using real-world data, compelling stories and psychological research, Selling With Noble Purpose explains why salespeople who genuinely understand how they can make a difference to customers outsell those who only focus on internal targets and quotas.

Sales leadership experts McLeod and Lotardo reveal how a Noble Sales Purpose (NSP) can drive a team to outstanding sales numbers. Whether you're an executive, manager or aspiring sales leader, you'll discover how to find your own Noble Sales Purpose and create a sales force of True Believers. This new edition covers:

How firms overcome ferocious competition and how you can do the same
Why sales organizations with a clear NSP outperform traditional sales teams
How to avoid the trap of behaving like a transactional salesperson
Why well-intended leaders often unknowingly erode purpose and differentiation
How to use your NSP to increase customer engagement
Why an NSP gives you clarity during times of uncertainty
In an era where organizations often believe that money is the primary way to motivate salespeople, Selling with Noble Purpose offers and exciting and sustainable alternative.
Tags: Business Strategy, Leadership, Sales
Leading with Noble Purpose: How to Create a Tribe of True Believers
Wiley
February 01, 2016
Profit doesn't drive purpose. Purpose drives profit.
We made some incorrect assumptions about work and those assumptions are killing us. We allowed a narrative that is solely about earnings to replace what we know to be true about human motivation.

Human beings are hardwired to seek purpose, but according to data, most people don't feel a sense of purpose in their work. Work has become a grind, an endless series of tasks that lack meaning.

Building upon her bestseller Selling with Noble Purpose, leadership expert Lisa Earle McLeod tackles the employee engagement crisis by showing leaders how to put workplace meaning front and center. McLeod, whose clients include organizations like Google, Hootsuite, and Roche, asserts that many organizations are unconsciously squandering their greatest asset—their people's passion. By putting profit before purpose, organizations eroded the very thing that makes a business great.

The narrative of profit, earnings, and bonuses was supposed to improve employee performance, but it had the opposite effect. It stripped the joy and meaning from work in ways that have a chilling effect on morale, performance, and ultimately profit. In this new book, McLeod shows leaders how to:

Win the hearts and minds of employees, clients, and stakeholders through a Noble Sales Purpose
Reframe your approach to metrics so that they accelerate performance
Create a tribe of True Believers who drive revenue and do honorable work
People want to make money and make a difference. Leading with Noble Purpose shows leaders how to do both.
Tags: Change Management, Leadership, Sales
The Triangle of Truth: The Surprisingly Simple Secret to Resolving Conflicts Large and Small
Penguin
February 01, 2011
"A must-read for anyone who wants to be more successful."
-Keith Ferrazzi, author of #1 New York Times bestseller Who's Got Your Back

This engaging and eye-opening book presents a bold model for rising above either/or thinking, recasting the debate on everything from sex and politics to business and religion.

With refreshing wit and honesty, business consultant and columnist Lisa McLeod reveals why most of what we've been told about conflict resolution and compromise is wrong-and why the answers to even the most complex problems are closer at hand than we might think. A rare combination of personal insight, business wisdom, and humor, The Triangle of Truth is a just-in-time read for anyone who is tired of the arguments, angst, and stalemates and is ready for real solutions to our problems, large and small.
Tags: Project Management, Sales
McLeod & More, Inc.
McLeod & More, Inc.
January 03, 1994
We help leaders drive revenue and do work that makes them proud. Our clients tell us, we help them combine the money with the meaning. We work with senior executive teams and sales leaders to improve competitive differentiation and emotional engagement. This is the magic formula for driving growth and keeping team morale while you do it. We work with big sexy firms; we've also helped a plumbing company drive double digital sales growth and a concrete company win a Best Place to Work award. You can read more about our clients' results here: https://www.mcleodandmore.com/consulting/
Tags: Leadership, Entrepreneurship, Sales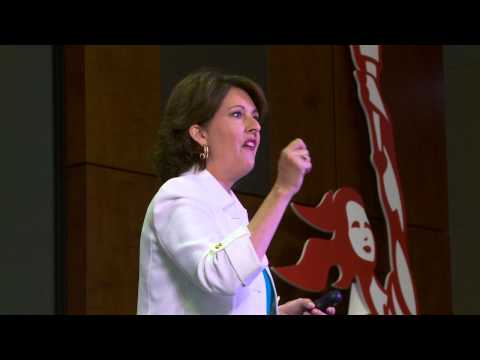 Working With Purpose | Lisa McLeod | TEDxCentennialParkWomen
YouTube
June 30, 2015
Working With Purpose

Lisa Earle McLeod is best known for creating the popular business concept "Noble Purpose."

Recognized internationally. Lisa is a sought after keynote speaker, and sales leadership consultant who is the author of the bestselling book, Selling with Noble Purpose.

Companies such as Apple, Kimberly-Clark, Pfizer, and Google hire her to help them increase revenue, accelerate sales, improve competitive differentiation, improve sales culture, and ignite customer engagement.
Tags: Leadership, Business Strategy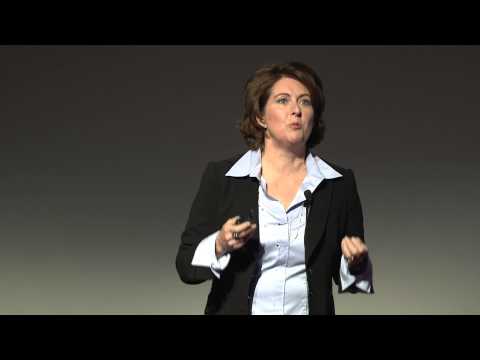 The triangle of truth: Lisa Earle McLeod at TEDxPeachtree
YouTube
November 30, 2013
In the spirit of ideas worth spreading, TEDx is a program of local, self-organized events that bring people together to share a TED-like experience. At a TEDx event, TEDTalks video and live speakers combine to spark deep discussion and connection in a small group. These local, self-organized events are branded TEDx, where x = independently organized TED event. The TED Conference provides general guidance for the TEDx program, but individual TEDx events are self-organized.* (*Subject to certain rules and regulations)
Tags: Leadership, Business Strategy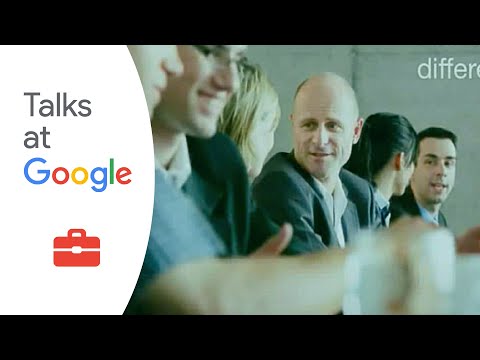 How to Sell with Noble Purpose | Lisa Earle McLeod | Talks at Google
YouTube
February 23, 2012
Author Lisa Earle McLeod visited Google in Atlanta on February 23, 2012.

Lisa Earle McLeod, author of The Triangle of Truth, which the Washington Post named as a "Top Five Book for Leaders," discusses how organizations can increase revenue, improve margin, and ignite innovation by focusing on a purpose larger than just money.

Here Lisa shares:
- Why purpose-driven salespeople out perform product-driven salespeople
- How to get others passionate about your purpose
- How to reignite your own passion when you feel frustrated and have lost your sense of purpose

Lisa Earle McLeod is a sales leadership consultant. Companies like Apple, Kimberly-Clark and Pfizer hire her to help them create passionate, purpose-driven sales forces. She has appeared on The Today Show, and has been featured in Forbes, Fortune and The Wall Street Journal.
More info - www.LisaEarleMcLeod.com
Tags: Leadership, Sales, Business Strategy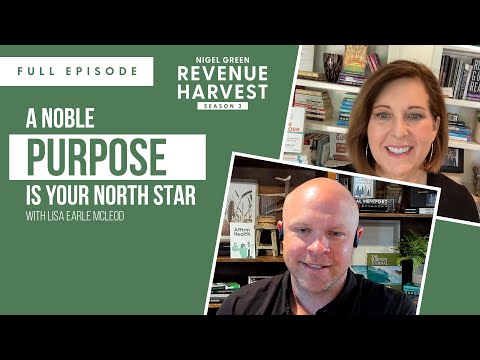 A Noble Purpose Is Your North Star with Lisa Earle Mcleod | Revenue Harvest S3E4
YouTube
June 03, 2022
This episode of the Revenue Harvest Podcast with Nigel Green features Lisa Earle Mcleod, author of Selling with Noble Purpose. Leaders must point toward a noble purpose as their true north because the numbers are lagging indicators of the beliefs and behaviors of the sales team.

The great thing is that you can train for belief and behavior. When people have a strong purpose about how to help others, it stops being about themselves and about others. It is from this core that you can build upon sales skills.

To create a reorientation in your salespeople, start by asking the question, "how will this customer be different after doing business with you?" Finding the answer to this question requires sellers to look deeper and realize that making it about others creates a true impact which translates to even better numbers.
Tags: Leadership, Sales, Business Strategy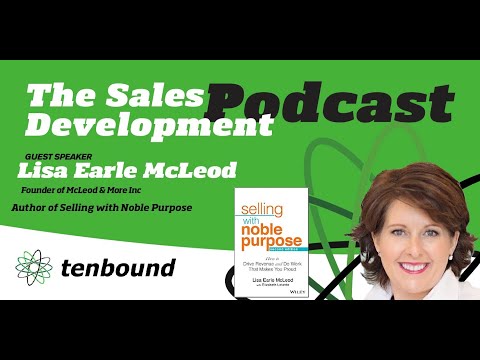 The Sales Development Podcast - Ep 173 Lisa Earle McLeod - Selling with Noble Purpose
YouTube
March 10, 2021
Are salespeople "coin operated"? Not the best ones.

Lisa Earle McLeod has made a quest to find out what makes top-performing salespeople really stand out. The best ones have Noble Purpose.

In her book, Selling with a Noble Purpose she does deep dive into understanding the difference between a sales force that's merely effective and one that's truly outstanding. It comes down to living your noble purpose.

In this conversation we unpack how to define your noble purpose, how to dedicate your time to it, and how to move forward.

Great conversation.
Tags: Leadership, Sales, Business Strategy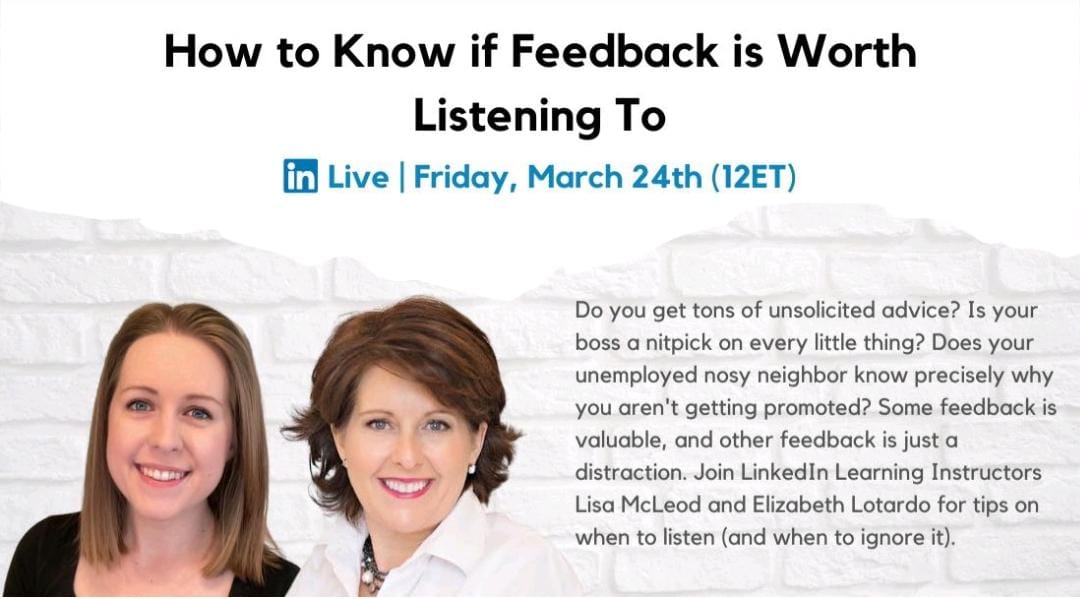 How to Know if Feedback is Worth Listening To
LinkedIn
March 24, 2023
Do you get you ever get unsolicited advice? Is your boss a nitpick on every little thing? Does your unemployed nosy neighbor know precisely why you aren't getting promoted? Some feedback is valuable, and other feedback is just a distraction. Join LinkedIn Learning Instructors Lisa McLeod and Elizabeth Lotardo for tips on when to listen (and when to ignore it).

Tags: Management, Leadership, Sales