Transitioning Jobs during the Great Resignation
LinkedIn
January 20, 2022
That is what happened for Caroline Seegmiller, a student at Texas A & M University who also happened to be a teacher for English language learning students. I was introduced to her story and background in her winning scholarship essay for an award I give out called The Pandemic's Box Scholarship.

Tags: Social, Management, Leadership
The Scholarship Algorithm
Carlynn Greene
September 24, 2020
Having won 28 scholarships ($105,000) for myself and over $2 million for students both in the U.S. and internationally (many of which who received full-rides), this comprehensive book details my techniques to securing scholarships and graduating debt-free. Some scholarships I have won includes ones from the U.S. Congress and Floyd Mayweather's foundation (the full list of scholarships I've won are listed on my website). The advice in this book is applicable to any type of student no matter your grade/classification or major/study concentration.
Tags: Social, Leadership, Culture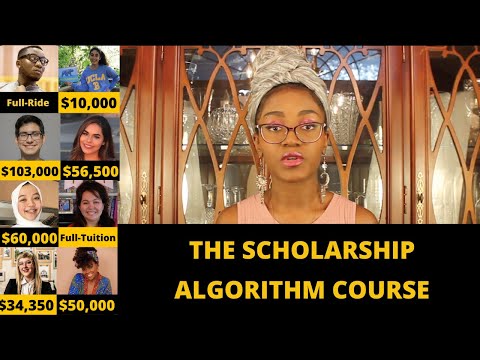 The Scholarship Algorithm Online Course | Meet the Instructor - Carlynn Greene
Scholarshipguru
December 01, 2021
My online courses are hosted on Teachable. The master course also has bundled in my book, by the same title, The Scholarship Algorithm and my personalized services. Parents are also highly encouraged to learn as well so to help their child navigate the financial side of college.

I also plan on partnering with schools and organizations so that this course and the knowledge it has can be accessible to even more students. So, if you happen to know a school or organization that you think should take the initiative to enroll students in this course, then fill out this forum here to give me more information on how to reach out to them!
Tags: Social, Leadership, Entrepreneurship
Scholarship Guru
Scholarship Guru
June 01, 2017
Scholarship Guru is a company I found that helps students win scholarships. I teach students how to emulate my techniques that landed me 30 scholarships, debt-free for undergraduate and graduate school.
How I went from knowing nothing about scholarships / never winning, to winning back-to-back for myself and even more for others across the globe.

Keep scrolling to learn about my story.
Tags: Social, Leadership, Entrepreneurship
Meet the first class of LinkedIn's Creator Accelerator Program
LinkedIn
November 30, 2021
We recently announced a $25 million investment in creators, and I'm excited to introduce the first U.S. class of our Creator Accelerator Program. These creators are subject-matter experts on topics that span the world of work: from diversity, equity and inclusion to cryptocurrency, from sustainability to entrepreneurship, and more. They have a story to tell and the passion to build meaningful communities.
Tags: Social, Leadership, Diversity and Inclusion
Meet the 10 recipients of the MACRO x TikTok Black Creatives Grant
TikTok
November 16, 2021
oday we're thrilled to announce the recipients of the MACRO x TikTok Black Creatives Grant, a first of its kind grant at TikTok uniquely developed to invest in and support Black creators and artists on TikTok.

The MACRO x TikTok Black Creatives Grant is a continuation of the TikTok for Black Creatives creator incubator program, where TikTok and MACRO identified 101 creators and artists across an array of content categories — including Arts, Entertainment, Music, Education, Food, Beauty, and more — and provided them with career-building resources to help them succeed on TikTok (and beyond).
Tags: Social, Leadership, Diversity and Inclusion
TikTok Creator Award Winner
ADCOLOR
November 01, 2021
THE 15TH ANNUAL ADCOLOR AWARDS
PRESENTED BY FACEBOOK AND GOOGLE | YOUTUBE
Since 2007, ADCOLOR has honored individuals and companies that go above and beyond to make a difference in the creative and tech industries. This is our night to celebrate their accomplishments and give them the recognition they've so richly earned.
Tags: Social, Leadership, Diversity and Inclusion
Scholarship Guru shares story, offers tips
FOX 5
May 07, 2021
Scholarship Guru Carlynn Greene talk about her scholarship success and shares tips for others!
Tags: Social, Leadership, Diversity and Inclusion
UNT junior helps students win scholarships through YouTube channel
North Texas Daily
February 07, 2021
Carlynn Greene has helped students nationwide and globally win collectively over $1 million in scholarship money for themselves -- several even got full-ride scholarships.
Tags: Social, Leadership, Diversity and Inclusion
What's the DIFFERENCE between the; book, online course & YouTube/TikTok videos?
Scholarshipguru
December 01, 2021
Up to 10x more likely to win: VIEW the differences between: book, social media, and online course!
Tags: Social, Management, Leadership