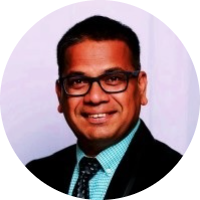 Damodar Sahu
Digital & Innovation Strategist - Automotive at Wipro Limited
Greater Detroit Area, Michigan, United States
Ranked as the #1 Social Seller Globally for Wipro - By LinkedIn (#SSI of 91)

Helping customers advance their product & services realization goals with direct impact on revenue growth, market share & cost to serve via differentiated 'ways of working'. Exploring the 'art of possible' for the client and deliver an experience-led capability built around customer's business, a high-velocity change/build capability designed to scale seamlessly.

As a design thinker, Damodar works at the confluence of business and emerging technologies which includes IoT, AI, Industry 4.0, Blockchain & Service Transformation. His digital transformation approach and innovative technology application thought-process is well acclaimed by his presentations as Speaker in numerous technology conferences and global fora, and through his numerous articles and blogs in the print and social media.

A keen strategist with a go-getter attitude, Damodar is a thorough management professional with more than two decades of success in driving business benchmarks, digital/technology initiatives and charting a sustainable growth path for clients.

Damodar has a post graduate diploma in business management in CRM and Operations Management and has a Bachelor's degree in Electronics & Telecom Engineering. He also completed a Management Development program (MDP) on Leadership in the age of Digital Transformation from IIM - Calcutta.

An enterprising leader with abilities in leading multi-skilled motivated teams to achieve organizational goals. With strong organizing skills, he is a team player and a decisive leader with a numerous success in directing projects from original concept through implementation to handle diverse market dynamics. His previous experience includes reputed organizations namely Bharti Teletech, Accel Frontline, Intex Technologies, Kores (India) Ltd., Bajaj Electricals Ltd.
Available For: Authoring, Consulting, Influencing, Speaking
Travels From: Greater Detroit Area, Michigan
Speaking Topics: Intelligent Self Service, IoT to IoE (Internet of Everything), Industry 4.0