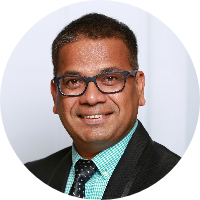 Dr. Damodar Sahu
Co-Founder & Chief Growth Officer at Data Safeguard Inc.
Greater Detroit Area, Michigan, United States
Dr. Damodar Sahu, known as a Master in "People Connector", advocating "Better Together" & "Powering Growth" through Partnerships, is a highly collaborative, cross-functional compassionate leader with 26 years' experience in building Partnerships, Market Development, and Business from "Concept to Expansion" in technology and managed services Industries. He has excellent relationships with senior-level executives and key decision makers at a range of partners including Cloud Service Providers (CSP) AWS, Azure and Google Cloud, Key Technology Partners, and other ISVs/IHVs/MSPs. Damodar is one of the founding members of Wipro's two in-house Start-ups (H2H3 Programs) i.e., Aftermarket Service Transformation and AutoInsights.

In his current role at Data Safeguard Inc., as Chief Growth Officer, he is responsible for defining and driving the overall Growth Strategy of the company in Marketing, Alliances, Partner Ecosystems, Investor and Analyst relationships globally. He executes the sales process from "start-to-finish" for partners by amplifying ideas, Co-innovating & Co-creating for Growth, Collaborating at Scale, and Co-investing for the Future.

? Top Performer in Niche Alliances
? Top Gun Award | Best Sales Supremo
? Innovation Award in IoT
? Ranked as the #1 Social Seller Globally for Wipro – By LinkedIn
? Thinkers360 Thought Leader
? Startup Mentor at Startup India, and Startup Odisha
? Bhartiya Seva Ratna Award 2022 for Lifetime Achievement in Social Services
? Conferred with Honoris Causa Doctor of Philosophy (PhD) in Social Services - World Peace & Philanthropy | Doctor of Letters (DLitt.,USA) for IT & Social Services
?World Peace Ambassador - India by World Peace Tracts

Skills: Deep understanding of Partner Program, GTM Strategy, Technology Offerings, Alliances Metrics, Incubate, Accelerate & Scale up, Scale up with Cloud Marketplaces, Positioning "Preferred Partner", Cloud / SaaS Sales, Industry 4.0, and Aftermarket Service Transformation.

About his #PSR (Personal Social Responsibility): Advocating #TheChainReactionOfGiving
Damodar is always obliged to hard work and the values instilled in his childhood. Born in a small town in Odisha, India, he grew up in a loving but poor family 'without a spare rupee'. The initial hardships of his life not only taught the value of hard work but also revealed to him the avoidable sufferings of the common students. Hence, he has set-up "MuliaSmarak" https://muliasmarak.org/ a PSR to support on Education to the underprivileged students of his native place in Odisha, India.
Available For: Authoring, Consulting, Influencing, Speaking
Travels From: Greater Detroit Area, Michigan
Speaking Topics: Intelligent Self Service, IoT to IoE (Internet of Everything), Industry 4.0