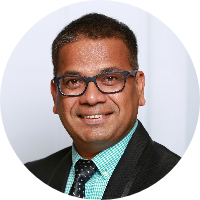 Dr. Damodar Sahu
Head of New Age SaaS | Ecosystems and Partnerships at Wipro Limited
Greater Detroit Area, Michigan, United States
Damodar Sahu, accomplished in cross-functional leadership, driven by the desire to bring people together and find ways to create value through unique business relationships, developing Partnerships in the SaaS world amplifying ideas, drive awareness and most importantly, bringing value to clients.

Damodar is one of the founding members of Wipro's Aftermarket Service Transformation Group and AutoInsights. He has been helping customers advance their products & services realization goals with direct impact on revenue growth, market share & cost to serve via differentiated 'ways of working'.

In his current role, he is responsible for creating and growing Wipro's New Age SaaS business of Human Capital, Supply Chain, Procurement and Process & Enterprise Transformation Consulting in the Growth Practice of Wipro's iDEAS (Integrated Digital, Engineering and Application Services) Global Business Line.

# Thinkers360 Thought Leader
# Ranked as the #1 Social Seller Globally for Wipro - By LinkedIn
# Startup Mentor at Startup India, Startup Odisha, and few Odisha based Universities' CII (Centre for Innovation and Incubation)
# Bhartiya Seva Ratna Award 2022 for Lifetime Achievement in Social Services
# Conferred with Honoris Causa Doctor of Philosophy (PhD) in Social Services - World Peace & Philanthropy | Doctor of Letters (DLitt.,USA) for IT & Social Services | Doctor of Technology (DTech) in information Technology | Doctor of Philosophy (DHum) in Humanities
# World Peace Ambassador - India by World Peace Tracts

Specialities : SaaS Sales, GTM Strategy & Execution, Growth, Partnerships, Partner Ecosystem Design & Development, Industry 4.0, and Aftermarket Service Transformation.

About his PSR (Personal Social Responsibility): #AdvocatingTheChainReactionOfGiving
Damodar is always obliged to hard work and the values instilled in his childhood. Born in a small town in Odisha, India, he grew up in a loving but poor family 'without a spare rupee'. The initial hardships of his life not only taught the value of hard work but also revealed him the avoidable sufferings of the common students. Hence, he has set-up "MuliaSmarak" https://muliasmarak.org/ a PSR to support on Education to the underprivileged students of his native place in Odisha, India.
Available For: Authoring, Consulting, Influencing, Speaking
Travels From: Greater Detroit Area, Michigan
Speaking Topics: Intelligent Self Service, IoT to IoE (Internet of Everything), Industry 4.0