Thunderhead expands APAC footprint with hire of industry thought leader Aarron Spinley, VP ANZ
PR News Wire
December 08, 2020
Thunderhead, the global leader in real-time customer engagement announce the appointment of Aarron Spinley as SVP APAC. Aarron was recently named a top 10 global thought leader in both Customer Experience and Brand Loyalty according to Thinkers360, and is prominent on its leaderboards for Marketing, CRM, and Culture.
Tags: Culture, Customer Experience, Marketing
Founder
SPINLEY.CO
November 30, 2015
Aarron Spinley is leading growth futurist and analyst who observes culture, society, & technological evolution. Combining digital provenance and economics with the social sciences, Aarron is renowned for his work on designed experience to unlock mutual growth.

He writes, consults, and speaks internationally in the fields of business growth and customer engagement, and his work has been coined: "Experience Anthropology".
Tags: Culture, Customer Experience, Marketing
Co-Founder
deeep Group
May 01, 2015
As management strategists and investors for the digital era, we work to deliver both traditional business value and disruptive outcomes. We are known for our work in concept development for monetisation, product strategy, business modelling, sales and marketing, capital raising, and risk management.
Tags: Business Strategy, Customer Experience, Startups
Co-Founder
WTI & Associates
January 31, 2010
Providing digital risk assessments and analysis.
Tags: Business Strategy, Digital Disruption, Risk Management
Mastermind Guest Coach
Digital Distillery
December 10, 2020
A virtual Q&A session with creative and digital agency leaders from New Zealand.
Tags: Culture, Customer Experience, Marketing
The New Frontiers of Privacy & Consent
Which 50 Media
July 30, 2020
Part of a panel being interviewed by Which-50 Media, along with the NSW Privacy Commissioner.
Tags: Culture, Customer Experience, Privacy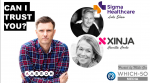 Can I Trust You?
YouTube
November 11, 2019
A panel interview on the subject of trust, its collapse, and the pillars of brand trust going forward.
Interview conducted by: Award winning journalist: Mike Gee.
Other panelists: Camilla Cooke, CMO of Xinja Bank and Luke Shaw, Head of Commerce at Sigma Health
Tags: Business Strategy, Culture, Customer Experience
EVOLVE Audio
Apple Podcasts
February 20, 2020
Listen in to growth futurist Aarron Spinley and global guests as they navigate the experience economy and the challenge of digital Darwinism. From senior executives, academics, career creatives, marketers, industry analysts, authors and global thought leaders.
Tags: Business Strategy, Customer Experience, Marketing