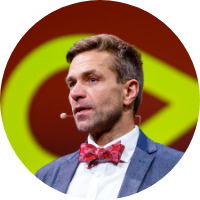 Prof. Agnis Stibe
Founder at transforms.me
Paris, France
1566 Followers
Prof. Agnis Stibe is a global thought leader on science-driven transformation – expert, speaker, coach, and advisor – transform your business and life right now!

He is also the founder of the Transforming Wellbeing Theory (TWT) & Practice.

At Massachusetts Institute of Technology (MIT Media Lab), he established research on Persuasive Cities that encourage healthy and sustainable living. He believes that our world can become a better place thought purposefully designed urban spaces that successfully blend technological advancements with human nature.

At ESLSCA Business School Paris, he continues demystifying how transformation actually works to improve lives and accelerate businesses. He is also the creator and director of the Transforming IMBA 2-year international graduate program designed for future global managers, transforming leaders, and wellbeing influencers.

Agnis has worked for Fortune 100 companies, including Hewlett-Packard and Oracle. He has received awards from Nokia Foundation (Finland), Dr. Theo and Friedl Schoeller Research Center for Business and Society (Germany), the Ministry of Education and Science (Latvia), and the renowned MIT Media Lab (USA).

Transforming Wellbeing Theory (TTW) is emerging as an inevitable response to the ever-growing imbalance in our businesses and lives across the globe. Every crucial domain continuously provides evidence of poor balancing despite us making huge progress in building increasingly capable technological innovations, such as artificial intelligence, blockchain, augmented reality, autonomous vehicles, and drones, just to name a few.

The TWT advances scientific knowledge and its practical applications to transform businesses and lives.

This transforming work is applicable in many essential life contexts, including health, education, sustainability, equality, governance, safety, emergency, management, commercialization, marketing, ecology, and economy.
Available For: Authoring, Consulting, Influencing, Speaking
Travels From: Paris, France