Member Board of Directors
ING Business Shared Services BV
August 01, 2018
IBSS is ING's global shared services operations unit, providing technology and operational services to ING Bank and its subsidiaries. IBSS operates multiple service hubs with 5000+ employees in locations across Europe and Asia.
Tags: Digital Transformation, Management, Leadership
Letting go of leadership: A hopeful utopia for corporate realists
Routledge
February 15, 2022
The 'leadership myth' serves as a strong individual and social defence mechanism to repress own anxieties, helplessness or fear of failure and instead projects these onto prominent leadership figures as 'containers'. Moreover, the leaders' "proposed worldview and self-concept appeal to individuals with high levels of personal uncertainty" and sustain a toxic "illusio". Many organisations seek to liberate traditional bureaucracies with agile, empowered or entrepreneurial practices, often combining family and market metaphors (and democratic and visionary leadership styles) and extrapolating best practices from allegedly 'enlightened' businesses. Leadership is shared and contextual, and employees act virtuously with self-determination and relational trust in teams. The organisation embraces deeply regenerative relationships inside and outside the business, to serve a good society. Embracing a neo-virtuous paradigm, excellence in leadership is to enable the interdependent flourishing of the whole. Two centuries ago, enlightened great-great-grandfathers liberated the world from the shackles of religious dogma.
Tags: Agile, Digital Transformation, Leadership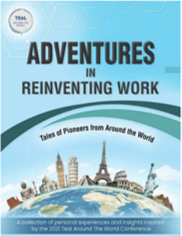 Adventures in Reinventing Work - Tales of Pioneers from Around the World
Teal Around the World GmbH
December 14, 2021
This book explores the personal journeys of pioneers who are creating and transforming organizations to not only generate profits, but to also enable a future that empowers and uplifts all of humanity.

In reading these stories, you will get to know fourteen people and organizations from all over the world, small startups and large multinationals. You will understand their challenges, their successes, and gain a glimpse into how organizations are evolving to the demands of a complex, rapidly changing world.

If you are interested in conducting your own experiments with better ways of managing and working, this book will give you inspiration. It also provides actionable ideas and simple practices to help you get started and move forward.
Tags: Agile, Digital Transformation, Leadership
Thrive In The Future of Work (Kevin Empey)
Oak Tree Press
July 01, 2021
THRIVE in the Future of Work provides a journey through the realities, implications and solutions for the rapidly changing world of work we live in today. It is a practical account of what we know so far from those who are already there - and it is both a guide and an invitation for you to explore what your own path will be towards Future of Work readiness and fulfillment.

Endorsement by Otti Vogt: Agility, as we often say, is about "getting best at getting better". Yet, enabling organisational agility at scale is not easy. It requires deliberate examination of our structures, processes, cultures and mindsets – as well as mature and engaged employees. Kevin's stimulating book, full of insights and practical advice, is a thought-provoking invitation for the leaders of the future to embark on a purposeful learning journey towards enterprise agility. Start now, and start small; find your "buddy group"; get the right talents; and, together, let us ensure we will truly thrive, rather than just survive, in the "future of work"!

ING case study p.191/192
Tags: Agile, Change Management, Future of Work
Book Project: Good Organisations
TBC
December 31, 2021
For decades, leaders have been trying to fix the mess they have created. Despite numerous initiatives, from Human Potential to Agility, the suffering, inequality and damaging of our planet appears to continue. We believe it is time for a new approach. The "anything goes" narrative of our postmodern world cannot be uphold. Our economy is not separate from society. Our life is not separate from work. We need to relearn to put humanity first and operationalise honor and virtues in our management practices.

Antoinette Weibel (Professor, University of St. Gallen) and Otti Vogt (formerly, COO C&G, ING) are launching a new book project to explore important management questions of our time.
Tags: Agile, Digital Transformation, Leadership
Episode 19: The Fifth Revolution
LeaderShape
April 14, 2021
15 April 2021 Otti Vogt and Danielle Grant discuss "The Fifth Revolution," a topic that is increasingly important for the health of our organisations. What is the Fifth Revolution? As Otti puts it, after the fourth revolution focused on technology and change, we need a humanistic revolution focused on moral leadership. Otti is Chief Operating Officer and Chief Transformation Officer at ING.
Tags: Agile, Digital Transformation, Leadership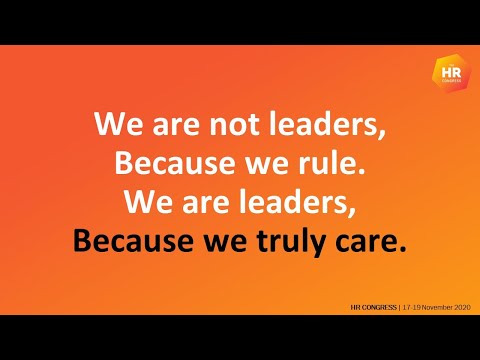 Beyond Agile: Evolution Towards Teal and the Role of Servant Leadership
The HR Congress
November 23, 2020
I hope ours will become a decade of HR. In these days of anxiety, big questions, challenges and pressures, and momentous re-definitions organisations need guidance. HR has a real opportunity to become that guide, as a critical friend and partner, with a cool head and a burning heart. Yet, many of the topics we are discussing at our Congress have been around for many years and now is the time to execute. We got our toes in the water but now we really need to pull through...

Let us together roll up our sleeves and jointly re-imagine our organisations for positive impact. Let us spark a Fifth Revolution to recover better, recover stronger, recover together! We are not leaders, because we rule. We are leaders, because we truly care.
Tags: Leadership, HR, Agile
Transformation Universe Podcast: ING's Otti Vogt about Agility, the future of Organizational Learning and Consciousness
Transformation Universe
November 16, 2020
"Organizational Learning is a team Sport that can lead to collective learning and evolution at scale."

Christina and Daniel exchanging thoughts with leading-edge thinker Otti Vogt, one of the though leaders in agile organizational development, TED Speaker and secret poet.

Otti is an disruptive thinker, passionate global C-level transformation leader with over 20 years of experience in cross-cultural strategic change.

You can look forward to deep insights about agile transformations, the role of leadership and personal growth.
Tags: Agile, Digital Transformation, Leadership
KPMG Board Leadership News 01/2022: The Scientific View. Stop The Suffering: "Good Organizations" Wanted
KPMG
March 01, 2022
We have formulated initial hypotheses about "Good Organisations" and "Good Leadership", building on many of the discussions during our Leaders of Humanity Season 1 interviews.Some of our thinking was picked up by others, including Haufe Group and KPMG.
Tags: Business Strategy, CSR, Leadership