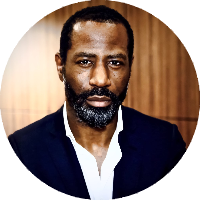 Hamilton Mann
Group Director, Digital Marketing and Digital Transformation at Thales
France, France
28966 Followers
Hamilton Mann is the Group Director of Digital Marketing and Digital Transformation at Thales since 2017.

He leads the digital transformation of marketing globally for 68 countries to drive enhanced customer engagement and experience and the excellence of Thales' integrated Marketing campaigns and digital Sales practices.

He has implemented the worldwide Thales Digital Seller initiative, aiming at designing and deploying Thales' Sales & Marketing enablement practices and technology platform towards Thales' 7 Global Business Units, 30 Business Lines and 68 countries, strengthening the collective willingness to break down internal silos to leverage the full potential of Thales' business synergies for faster sales, upsell and cross-sell.
In support of Thales' Digital Transformation, he leads the implementation of Group transverse Digital initiatives, focusing on helping make the company an exceptional place to drive Business Innovation and Growth by making experimentation the norm.

He is also has established Thales BIG program ("Business Innovation & Growth") aiming at achieving BIG ambitions of countries, cities, and economic actors in civil society, in the fields of Space, Aeronautics, Mobility, Digital Security and Defense, in innovative ways. As of today, "BIG" brought the opportunity to over 10,000 Thales staff to embark in the Digital Transformation journey while giving birth to new Thales ventures and business models, leveraging AI, Big Data, IoT and Cyber security technologies.

He joined Thales in 2013 as Director at Thales Consulting, the management consulting arm of Thales, working as an adviser for Thales Group executives, focusing on innovation, marketing, globalization and transversal organizational transformations.

Prior to joining Thales, in 2011, he was Director at Capgemini Consulting (now Capgemini Invent), leading Strategy and Digital Transformation consulting projects for global industrial companies, after a career as an entrepreneur and co-founder of Mann & Miller, a start-up providing advice in the field of marketing to leading companies in the luxury sector.

Hamilton Mann is the President of the INSEAD Digital Transformation Club of the INSEAD Alumni Association France, Co-President of the INSEAD Strategy Execution Graduate association, Entrepreneur in Residence at INSEAD, Mentor for the MIT IDEAS social innovation challenge of the MIT Priscilla King Gray (PKG) Center, and General Secretary of the No More Plastic foundation..

Hamilton Mann is an alumnus of the MIT Sloan School of Management, INSEAD and EDHEC Business School.