Frugal Innovation: How To Do More With Less
The Economist
April 15, 2015
Tags: Entrepreneurship, Innovation, Sustainability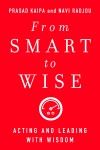 From Smart To Wise: Acting and Leading with Wisdom
Jossey-Bass
March 15, 2013
Leaders tend to obstinately stick to the leadership style that brought them most success in the past, usually one of two extreme styles: functional leadership that focuses on operational excellence or smart leadership that focuses on growth. When a leader's focus is too functional, the organization becomes introverted and can focus too much on bottom-line profitability while missing out on top-line growth opportunities. But when leaders focus too much on smart leadership, the organization may experience quick growth but lose its effectiveness quickly.

From Smart to Wise offers a new approach that balances the two styles to achieve a form of wise leadership that is both functional and smart. Drawing on inspiring real-life stories of historical and contemporary wise leaders such as Bill Gates, Warren Buffet, and even Mahatma Gandhi, the authors identify six characteristics of wise leaders and offer a practical framework to help readers develop their own style of wise leadership.

A fresh and timely approach to nurturing wise, resilient, and flexible leadership in a world of growing complexity
Tags: Change Management, Leadership
Jugaad Innovation: Think Frugal, Be Flexible, Generate Breakthrough Growth
Jossey-Bass
April 01, 2012
Innovation is a major directive at corporations worldwide. But how do you drive innovation and growth as the global business landscape becomes increasingly unpredictable and diverse? Western corporations can no longer just rely on the old formula that sustained innovation and growth for decades: a mix of top-down strategies, expensive R&D projects, and rigid, highly structured innovation processes. Jugaad Innovation argues that the West must look to places like India, China, and Africa for a new, bottom-up approach to frugal and flexible innovation.

Building on their deep experience of innovation practices with companies in the United States and around the world, the authors articulate how jugaad (a Hindi word meaning an improvised solution born from ingenuity and cleverness) is leading to dramatic growth in emerging markets—and how Western companies can adopt jugaad to succeed in our hypercompetitive world. Delving into the mindset of jugaad innovators, the authors discuss the six underlying principles of jugaad innovation:

Seek opportunity in adversity

Do more with less

Think and act flexibly

Keep it simple

Include the margin

Follow your heart

To show these principles in action, the authors share previously untold stories of resourceful jugaad entrepreneurs and innovations in emerging markets. The authors also describe how forward-thinking Western firms like 3M, Apple, Renault-Nissan, Facebook, GE, Google, IBM, and PepsiCo are already applying these principles of jugaad to innovate faster, cheaper, and better—and to win.

A groundbreaking book, Jugaad Innovation shows leaders everywhere why the time is right for jugaad to emerge as a powerful business tool in the West—and how to bring the jugaad mindset and practices to their organizations.
Tags: Entrepreneurship, Innovation, Sustainability