AI Marketing Gimmick Yields Some Sales Bites
Wall Street Journal
July 10, 2019
A maker of artificial-intelligence created a résumé touting the program's skills, such as being able to type a million words a minute, and sent it to more than 1,000 contact-center jobs.
Tags: AI, Marketing, Startups
Incite State of Customer Service 2020 Report
Incite Group
June 28, 2019
Pypestream, which develops Natural Language Understanding (NLU) programs for a variety of industries, believes that each client needs to have a tailored conversational AI based on their requirements. The process for this is based on working closely with clients to assess what level of need they have and what kind of questions their conversational AI will be answering. "First comes scoping the right use cases," says Evan Kohn, Chief Business Officer of Pypestream, and asking "what are the 2019 business goals for that company and then aligning the conversational AI deployment with that. From there you can make really data-driven decisions around which use cases will deliver the most value to the enterprises deploying the technology and its user base." For example a conversational AI using NLU "is most relevant for use-cases around FAQs or navigating a wide array of content," but it might not be appropriate to a more linear train of questions notes Kohn. "For more transaction-focused use cases, for example a policy holder submitting a claim, where each step is really a prerequisite to the next step, NLU may be a bit less relevant because it's not a matter of navigating a wide content library for technical troubleshooting." Where it is appropriate, Pypestream then moves to gathering data and training the AI for the use case. "In some scenarios we will launch with the client and collect production data – specific utterances and ways that users are posing questions – and use that as training data and then deploy advanced NLU in a follow-on phase. If they're already sitting on production-quality conversational data, we will use that out of the gate as training. Before going live with any solution, we partner with our customer to assess the precision score so there is a high degree of confidence based on usability testing." Core to this testing and production process are user experience design, "such as empathy mapping, user persona definition, and establishing a wow-factor." Then they consider "integration, so anything on an enterprise's back-end." Then they need to consider the human element. "Third is really positioning agents to handle those most complex topics in a way that is really a seamless hand-off from automation to agent. Fourth is how are you communicating to a user audience so that they know about this new channel and more importantly what are the benefits of it? Are you putting it on the front page of a high traffic site or is it eleven clicks down? You also need to look at the analytics front, making sure that you're aligning your reporting dashboard with the business KPIs." Finally once a service goes live it is important to continue to refine, "using conversational data to fine-tune and optimise performance, both with the NLU and also the guided journey aspect and seeing where are the drop-off points and where can we update either the tone of voice or the content."
Tags: AI, Customer Experience, Digital Transformation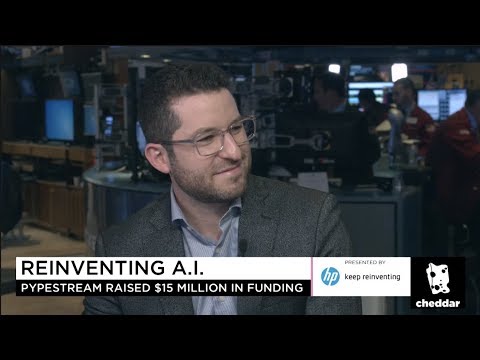 Conversational AI Startup Pypestream Brings in $15 Million
Cheddar TV
January 03, 2019
Pypestream is a conversational artificial intelligence startup that's built for scale. The New York-based company just raised $15 million in funding, led by insurance company W.R. Berkley. Evan Kohn, Chief Business Officer at Pypestream, joined Cheddar to discuss what this funding will go towards, and the future of A.I.
Tags: AI, Customer Experience, Startups