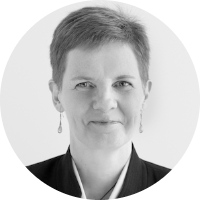 Ruth Pearce
Chief Inspiration Officer & Co-founder at ALLE LLC
Southport NC, United States
Check out Ruth's current LinkedIn Learning Programs:
Bravery in Project Management

Project Management Burnout: Signs, sources and solutions

Project Manager to Project Motivator

Mindfulness: A Critical Skill for Project Managers

Read the book: Be a Project Motivator: Unlock the Secrets of Strengths-based Project Management

What do you get when you cross an economist with a lawyer, a mediator, a project manager, a coach, character strengths and a certificate in positive psychology?
You get someone whose motto is....

BE HOPEFUL; BE STRONG; BE BRAVE; BE CURIOUS

In 2016 I quit.
I was burned out.
My burnout appeared as sudden insubordination. Principled insubordination but subordination nonetheless.
After 25 years in project management, I couldn't even speak the word "project". I was done. Exhausted, disconnected, cynical, useless. These were all words to describe how I felt then.

Now I coach & train PMs based on a framework of:
BE HOPEFUL; BE STRONG; BE BRAVE; BE CURIOUS

In applying myself to something new, something refreshing, I found my passion. Now I help others who have experienced something like me to come back stronger & with sustainable sense of balance & purpose.

Why work with me?
It's a winding path that has brought me to this point in my career. I've worked in fields from mediation & law to anxiety coaching, economics to massage, & industries from financial services to state government, & non-profits to education. Then there is the project management AND coaching!
My coaching practice has been deeply affected by having worked in so many international organizations such as Société Générale, UBS, HVB & Broadridge, as well as NYS Government & an educational non-profit.

Now, I could not be better. I live in a place I love. I have two rambunctious dogs with whom I enjoy walks in nature. I have two rabbits who share my office. I am healthier & generally happier than I have been at any other time in my life. I did not think any of that was possible back in 2016. I was wrong. I have learned to be Hopeful, Strong, Brave & Curious & you can too with the right support.

For me, that came first from being coached & then learning to coach others – individually & even more so in groups. The art & science of coaching continuously develop. Every day I am a better coach than yesterday. Being a coach informs everything I do from training to speaking, writing to studying.
And that means...
1. Everything is about you the client, the audience, the student
2. I have learned to listen deeply and make sense for you of what I hear.
3. I can playback your story from a different perspective to help you see a new step.
4. I am 100% in your corner – and at the same time I gently challenge you
5. AND I have been trained by some of the best people in the world to help you navigate YOUR life.
6. I embrace the light and the dark of life.
7. I believe it is when we listen to the whole of our being that we become the best version of ourselves

Top VIA strengths: Appreciation, Bravery, Curiosity, Fairness and Love of Learning
Favorite MIPI competencies: Motivational Self Efficacy, Motivational Influence, Perseverance

Speaking
Since 2016 I have engaged with audiences from around the world - more than 75,000 people live and pre-recorded in 10's of countries. Audiences include Project Managers, HR professionals, Coaches, Leaders, Managers, Teams, Interest Groups and more.


Available For: Authoring, Consulting, Influencing, Speaking
Travels From: Southport, North Carolina, USA
Speaking Topics: #futureofwork, #mentalhealthintheworkplace, #insubordinationwithprinciples
Speaking Fee
$5,000 (In-Person), $750 (Virtual)