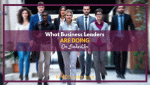 What Business Leaders Are Doing On LinkedIn
linkedin
March 05, 2018
Have you ever wondered what business leaders and experts are doing on LinkedIn?

Well, I did.

So I asked 5 questions over 5 days. I created a survey style question each time on LinkedIn.

The folks that responded to my post on LinkedIn, are the answers I collected. These are the questions I asked:

How often do they post?,,,,

Tags: Leadership, Business Strategy
Five Myths Debunked About Female Thought Leadership
linkedin
February 19, 2018
Here are the five myths debunked about female thought leadership.

Not only do the myths described below include fixes, I have also incorporated comments below from others leaders on LinkedIn.


Tags: Leadership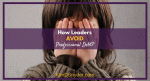 How Do Leaders Avoid Professional Debt?
linkedin
January 30, 2018
Have you wondered how leaders avoid professional debt?

Are these types of profession debt weighing you, your team and your organization down?


Tags: Leadership